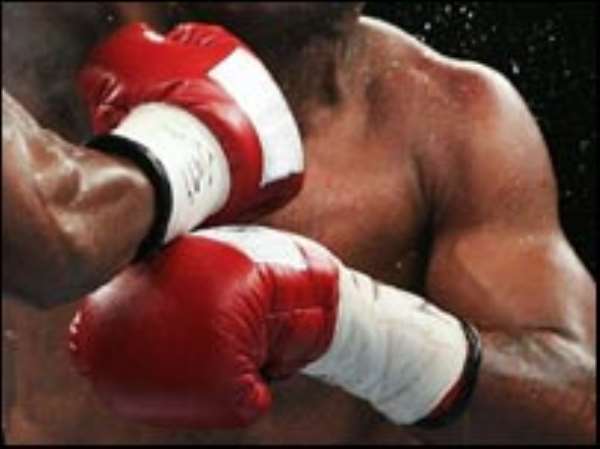 Accra, Jan 3, GNA - The newly created West Africa Boxing Union (WABU) has released ratings of boxers under its control for December 2005. Out of the 13 weight categories, 12 of the categories are vacant with Simon Peter McIntosh of Nigeria as the holder of the Super Lightweight title.
Among the vacant titles are Heavyweight, Cruiserweight, Light Heavyweight, Super Middleweight, Middleweight, Super Welterweight, Welterweight, Lightweight and Super Featherweight. The rest are Featherweight, Super Bantamweight, Bantamweight and Super Flyweight.
In the Heavyweight division, Ghana's Lee Manuel and Ibrahim Marshal are rated second and third contenders with Nigeria's McIntosh as the number one contender.
Aloryi Mensah Moyoyo is ranked fifth in the Cruiserweight Division whilst Daniel Sackey and Ibrahim Mashal are rated third and fifth respectively in the Light Heavyweight Division.
Ghana's Charles Adamu is rated the number one contender in the Super Middleweight category and will be facing challenges from the likes of Cyprian Emeti and Micheal Gbenga both of Nigerian, with Gbenga based in Ghana and Kudjo Bossou of Cote d' Ivoire.
James Obedi Tony is also ranked number one in the Middleweight Division with Ayitey Powers as the number three contender.
In the Super Welterweight division, Thomas Awinbono is ranked second with Jamiru Tyson from Nigeria as the number one contender. The Welterweight division has Philip Kotey and Steven Okine as the number two and three contenders respectfully with Nigerian Semi Clay as the number one contender.
Ghana's Isaac Quartey is the number one contender in the Super Lightweight division with his compatriots Badu Akwetey and Latekwei Hammond as number four and five contenders.
Ben Ankrah and Joseph Sakodie are rated second and fourth respectively in the Lightweight division.
Veteran Smith Odoom remains the only Ghanaian boxer ranked number two in the Super Featherweight division with Azeez Onikoyi picking up the number one slot.
Former Commonwealth Featherweight champion, Osmanu Akaba is the number one contender in his division with Ben Odammetey as the number two contender.
The Super Bantamweight division has Anyetei Laryea and Jonathan Yartey as the number one and two contenders respectively with Herbert Quartey as the only rated Ghanaian in the Bantamweight division. Sumaila Badu of Ghana and Agbotome Shaimaine of Benin are the only ones rated in the Flyweight Division.