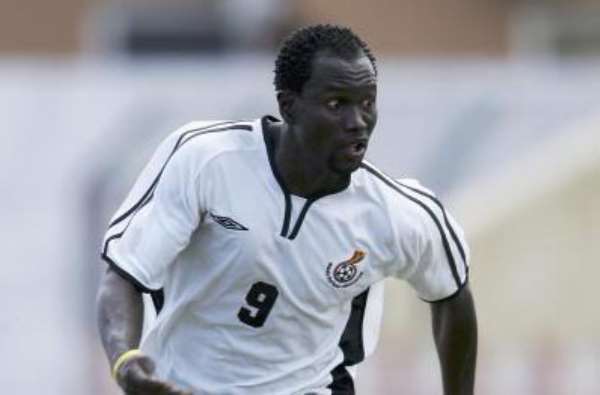 ENYIMBA of Aba goal poacher and Ghanaian international, Joetex Frimpong, says he will be happy to bath the Super Eagles with goals in Egypt next year when the group games of the 2006 African Cup of Nations get underway.
The Super Eagles face the Black Stars of Ghana in their first game in Group D of the biennial soccer fiesta, a tie that is already generating widespread excitement and speculations.
Both West African neighbours have an age-long rivalry that has turned every fixture between them into a mini-war.
For Frimpong who has played all his football in Nigeria, breaking into the Ghanaian national team only this year, the prospect of meeting the Eagles in Egypt is already firing him up to be at his best.
"I am already excited with this pairing. It is interesting that this has happened. In fact as I am talking to you now I feel like raising my game, being at my peak and getting set for the game to kick-off.
"Without doubt, Nigeria is my second home but all attachment to Nigeria and my friends that are based here will be dropped at the point of going on to the pitch.
"The match will be very tough and exciting and for me it will have a special touch because I am like a link between both sides."
Joetex Frimpong who was one of the closest people to Vincent Enyeama when the latter was still home-based told reporters that, friendship with the Nigerian first choice goalkeeper would not stop him from doing the business for Ghana in Egypt.
"Enyeama is my friend and he will always be my friend, so is Obinna Nwaneri. They were my team mates before they left Enyimba, but football is business and it is your loyalty to the cause you are pursuing that will decide your attitude on the pitch.
"I will be working hard to score against him (Enyeama) and I know Obinna (Nwaneri) will not have friendship at the back of his mind whenever he confronts me on the pitch.
"Many Nigerians do not know how good I am. Now I have an opportunity to show them what I can do, but honestly speaking I will want to score against Nigeria. That will be a very special goal for me."
The former El-Kanemi Warriors of Maiduguri forward also predicted that Nigeria and Ghana look very likely to qualify from that group.
"What else do you expect? I am predicting Nigeria and Ghana to qualify from the group although you can never underestimate the Senegalese side. They are very good and their players are young so that means they will be difficult to handle. Then you cannot write off Zimbabwe. They look like the weakest team in the group but then they still have some time to strengthen their squad for the tournament. They could spring some surprises."
As widely speculated, the Ghanaian ace told reporters that 2006 African Cup of Nations will be the toughest seen in recent times.
"I cannot agree any less that this African Cup of Nations will be the toughest in recent times. This is because the emerging powers of African Football will want to show that they are here to stay while the giants of Africa will want to recapture the title.
"For countries like Cameroun, Egypt, Nigeria, South Africa, Senegal and Morocco that will not be in Germany, the Nations Cup will be their only means of appeasing their fans for their failure to secure a World Cup berth while others like Ghana, Angola, Togo, Cote d'Ivoire and Tunisia will want to show that their achievement are no fluke, as it will be a good opportunity for dress rehearsals before the mundial in Germany," Frimpong added.