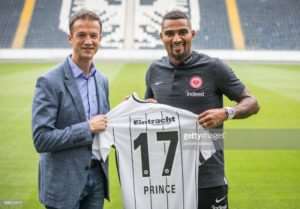 Former Hertha Berlin forward Fredi Bobic says he is not surprised by the form of Ghana international Kevin Prince Boateng at Sassuolo.
Fredi Bobic, currently a board representative for sport for Bundesliga club Eintracht Frankfurt revealed the 31-year-old has been working hard to remain in shape.
Bobic saw Boateng grow as a youth player for Hertha Berlin and believes the Sassuolo star has matured as a better player.
Boateng has had an explosive start to the current Italian Serie A campaign after scoring two goals in three games for the Green and Blacks.
"I've known him for many years. We played together with Hertha when he was still a minor. Of course, now it's completely changed, but it's normal: he is a man, not a boy anymore. The evening goes out less, it is more professional," Bobic told the Bild.
Meanwhile, Kevin Prince Boateng adds he has found a training regime that allows him to keep up with the level of the Serie A.
"I have to say that in the last 3-4 seasons I'm working hard," he admitted. 'Before I was not good about the discipline. We must always be professionals, even outside the field. For my career, for now, I do a nice 7. Sometimes I approached 8, but others have also gone under the 5. "