Doya To Get $450,000 For World Cup Ticket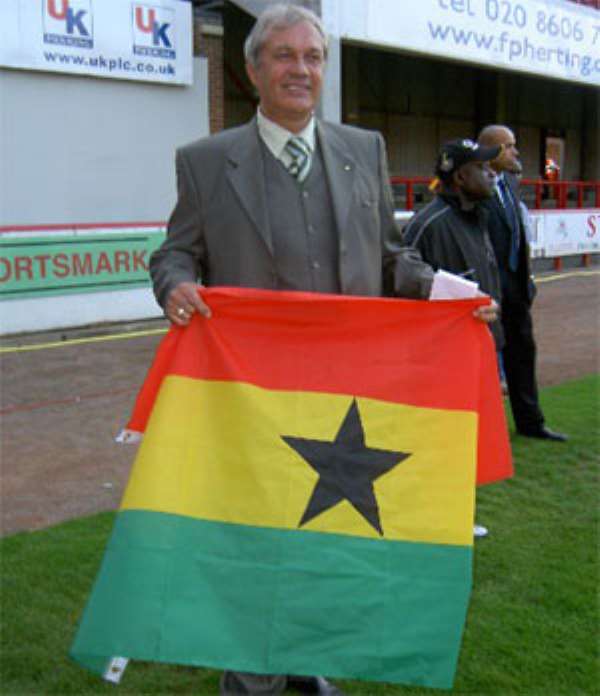 In recognition of his phenomenal achievement of crafting Ghana's path to the 2006 World Cup,Coach Ratomir Dujkovic is to laugh all the way to the bank for a mouthwatering $450,000
The payment of the amount by the FA is in fulfilment of an agreement reached between the football governing body and the Serbian -born coach.
Confirming this in an interview with the Graphic Sports in Accra last Tuesday, the Chairman of the Black Stars Management team, Mr Fred Pappoe, disclosed that even though the FA was yet to make any commitment to that end, it was obliged to fufill its part of the bargain once the coach had successfully discharged his by qualifying Ghana for the World Cup.
He disclosed further that the financial reward for the coach will have to be settled before his contract expires in December.
Dujkovic was signed last year after Portuguese professor, Mariano Baretto, vacated his job as the head coach of the Black Stars.
The Serbian,who had shot himself to prominence after leading unknown Rwanda to a fairytale appearance at the 2004 Nations Cup became the compelling choice for Ghana after Frenchman PhillipTroussier abandoned them midway in negotiations.
According to Mr. Pappoe the cost of hiring Dujkovic has proven to be highly manageable compared to the demands of Troussier whose financial proposals were bound to overstretch the resouces of the Ministry of Education and Sports.
Pappoe, an acting vice chairman of the erstwhile FA management board, further explained that the deal to reward the coach was reached partly due to the disposition of Dujkovic himself to the task of taking Ghana to the World Cup in the face of the odds that confronted Ghana's world cup ambitions.
Beyond the uncertainty of having Troussier complete his tenure in view of the high turnover of him coaching job, Pappoe revealed that the Frenchman was also uncompromising in his demands for a signing fee and salary whilst Dujkovic was flexible and eventually accepted what was offered in the FA's proposals largely due to adetermination to work.
Significantly, Dujkovic arrived at a very difficult point of the Stars'qualification bid as the journey appeared shaky having lost a match to Burkina Faso,drawn twice — one at home against Congo Dr,another away against Uganda and winning two against South Africa and Cape Verde.
He eventually qualified after winning three of four matches against South Africa and Cape Verde(away)Burkina Faso and Uganda at home and drawing only once against CongoDR in Kinshasha.
Based on the initial achievements,Pappoe also revealed that the coach's contract which expires on December this year be renewed ahead of Ghana's appearance in the Cup of Nations in Egypt next January.
The Serbian flew home from Cape Verde after completing Ghana's highly successful campaign with a 4-0 routing of Cape Verde.
He is expected back early next month to prepare the team for two friendly assignments in the United Arab Emirates.