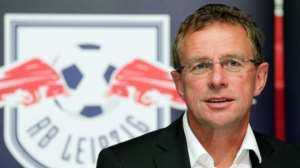 RB Leipzig sports Director Ralf Rangnick has ruled out an early transfer of midfielder Naby Keita to Liverpool.
The 22-year-old Guinea international is joining the Premier League side at the end of the season, but there had been speculation the Bundesliga club could release him during the German league's winter break.
Rangnick was, however, quoted Thursday by the daily Leipziger Volkszeitung as saying the club wanted to keep Keita until the end of the season.
"Even if we are no longer in the Champions League (after the group stage) during the winter it would make no sense to allow him to leave for Liverpool earlier," Rangnick said.
"We want, of course, to try to qualify again internationally, and we need Naby for this."
Leipzig are currently in danger of failing to reach the knock-out stage of the Champions League, lying currently third - which would ensure their transfer to the Europa League - in Group G.
Keita, who joined Leipzig from Red Bull Salzburg in the summer of 2016, will move to Liverpool for a fee of some 70 million euros (81 million dollars).