BODYBUILDING: Cyril Kofi Adga wins 2016 Mr. Man Ghana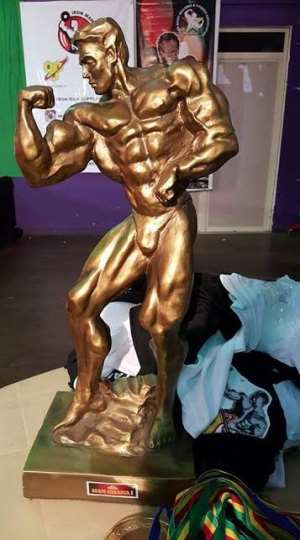 Cyril Kofi Adga has been adjudged Mr. Man Ghana Champion of the year 2016 at Ghana's most popular annual bodybuilding championship at the Hathrimani Hall of the Accra Sports Stadium crushing out fellow competitors Michael Parrell, Abednego Bueno and William Kankam for the Ultimate prestigious award.
The outstanding sparkling awards for the nations Bodybuilders was keenly contested by 24 athletes in four categories namely Bantamweight, Lightweight, Middleweight and Heavyweight with six judges.
The Bantamweight division witnessed athlete likes Michael Parrell, Francis Adaku, Abubakari Puedam, Fred Amankwa and Michael Otu locking horns for honours. After several minutes of showcasing the most flexible muscles Michael Parrell outclassed his counterparts to win the Bantamweight medal whilst AbubaKari Puedam and Otu Michael placed second and third respectively.
Abednego Bueno manned the Lightweight division with his style taut body triumphing over 2ndand 3rd Derrick Marley and Ali Mohammed respectively.
A built like a brick shithouse comprising of Eric Annane Tobin, William, Kankam, Gabriel Frimpong and Emmanuel Fletcher all stood tall for the middleweight division, but it was William Kankam who annexed the medal followed briskly by Emmanuel Fletcher and Gabriel Frimpong.
The category termed as the brawny and herculean Heavyweight zone squared off athletes like Mustapha Richardson, Joseph Ofoli kwei, Caleb Amozon, Cyril Kofi Adga, Patrick Atitsogbui and Denzil Ngoumou. After exhibiting their muscle-bound bodies, the ex Ghana Strongest man contender with the Lion-tighed legs emerged as the favourites defeating Musthapha Richardson and Joseph Ofoli Kwei to the 2nd and 3rd positions respectively.
The special Veteran award went to the championships most capped and oldest Musthapha Richardson.
Story by Ghana/Joy Sports/Joseph Adamafio