VUM 2016: Appiah Visits Osu Mantse As Peace Tour Commences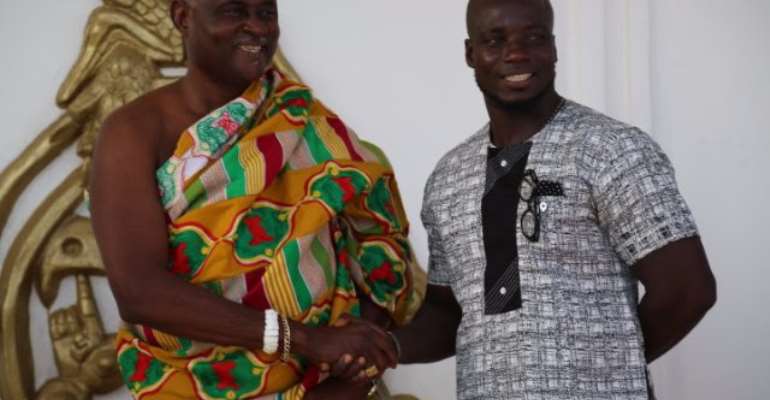 Peace Ambassador, Stephen Appiah has commenced his peace tour with a courtesy call on Osu Mantse, His Majesty Nii Okwei Kinka Dowuona VI at his Osu palace.
The visit by Appiah, is to officially invite the Osu Chief and his Traditional Council to Vodafone Unity Match 2016, an initiative by the former Ghana Black Stars captain and powered by Ghana's number one Sports event house, Primeval Media, aimed at promoting peace and unity before, during and after election 2016; as Ghana goes to the poll to elect a president and parliamentarians.
Appiah on his vistit informed the Osu Mantse of his peace tour plans that will see him pay courtesy calls on Former head of States, John Agyekum Kufuor and Jerry John Rawlings as well as the Chairman of the National Peace Council (NPC) Chairman, Rev Professor Emmanuel Asante and the National Chief Imam Sheikh Dr. Osmanu Nuhu Sharubutu, the Royal Highness of teh Ashanti Kingdom Otumfuo Osei Tutu II adnd end the tour with a visit to President John Dramani Mahama at the Flag Staff House.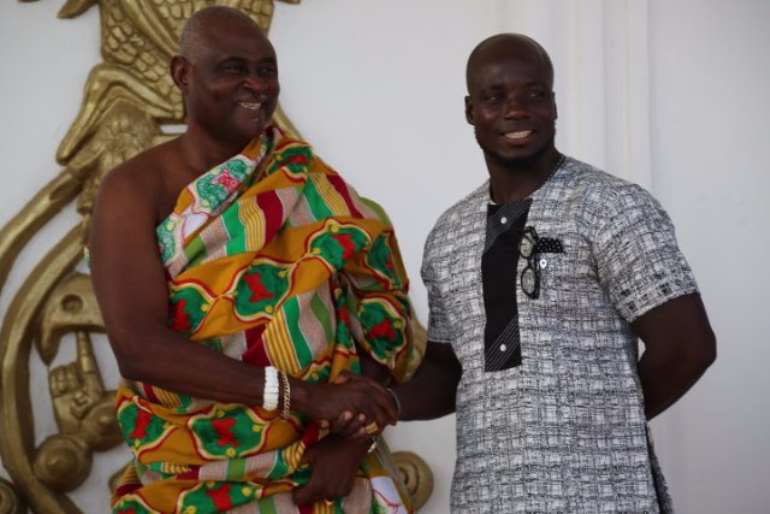 Stephen Appiah in handshake with the Nii Okwei Kinka Dowuona VI
The former Juventus midfielder said, "thank you for your warm welcome and acceptance to help me promote peace and unity among Ghanaians as we've no other country to fall on, should a war break out."Football as we know unites us and as such it motivated my decision to promote peace before, during and after election 2016."
The Osu Mantse who doubles as the President of Osu traditional council also had a word of advice for Appiah to deliver to the leadership of the various political parties.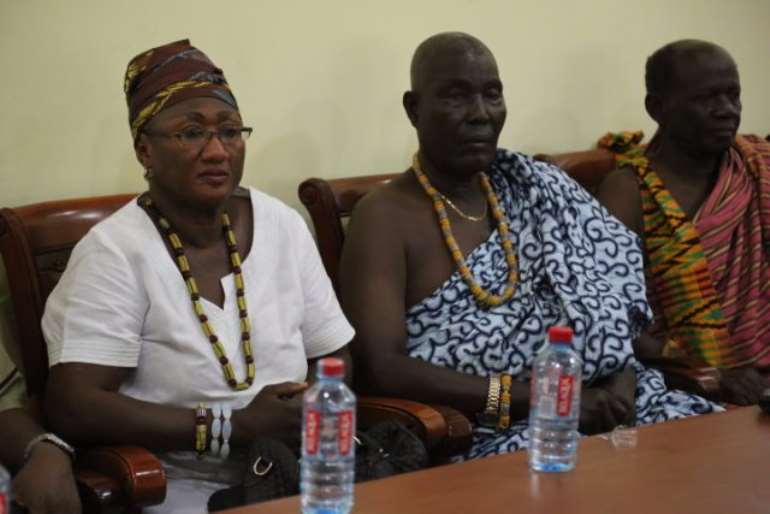 Sub Chiefs of the Osu traditional council were in attendance during Appiah's peace tour visit
He said, "I know through football we can educate all to understand after all it's just an election and not a war. And as such I advice that we're all one people and the supporters ought to understand it's all for peace and Ghana first.
Appiah, has our full support and we are ready to help anyway we can to help prevent the unwanted (war) and promote peace and unity. Yes we'll be divided by the colours and our political affiliation but that's all is should be."
Stephen Appiah's next visit on his peace tour will see him call on the National Peace Council (NPC) Chairman, Rev Professor Emmanuel Asante on Tuesday, May 24.