Abdul Omar cries for his money two years after winning Commonwealth bronze for Ghana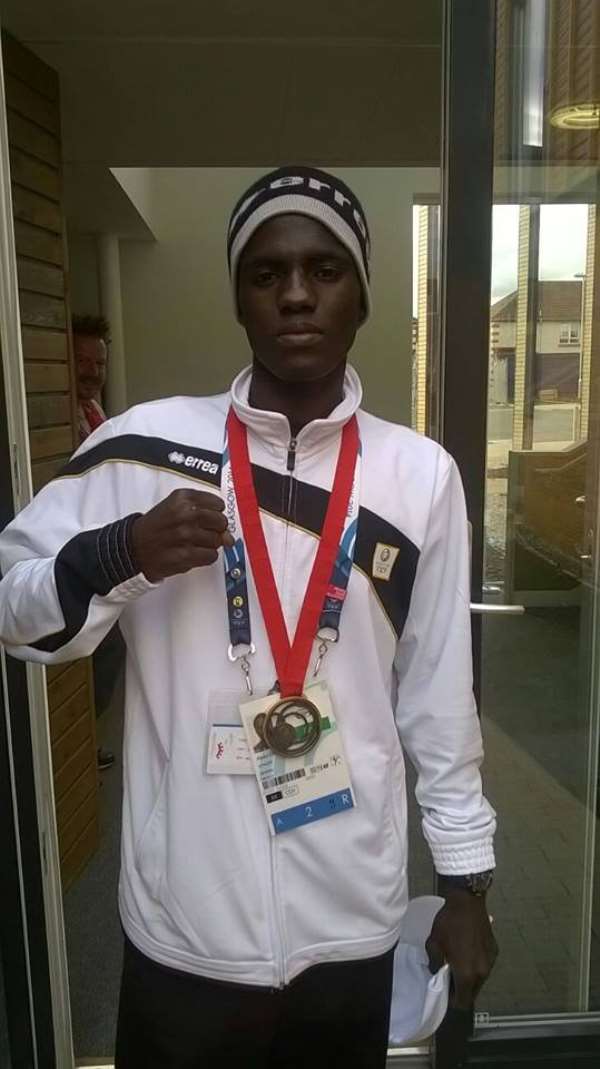 Extreme pain and regret for sacrificing for the flag of Ghana are few words that can describe the current state of mind of amateur boxer Abdul Omar, who won a bronze medal as a flyweight boxer for Ghana at the 2014 Commonwealth Games.
Omar, 22, is yet to be paid an amount of $3000 promised by the Sports Ministry for winning bronze in the flyweight division of thee boxing event at the Glasgow Commonwealth Games held between July 23 and August 8, 2014.
His medal happens to be one of the only two won by Ghana at the games with the other coming from Judoka Razak Abugri.
Omar who spoke to Joy Sports after a training session at the Accra stadium expressed frustration.
"I was told in Glasgow that I should wait and come to Ghana before receiving my money."
"Initially I didn't understand because I had worked hard and was now being told that I had to wait to take my prize," he told Joy Sports.
According to the boxer his Coach Ofori Asare who was then in charge of the Black Bombers calmed him down and assured him that government would honour the promise soon.
"I was very angry and sad at the same time but I listened to my Coach and calmed down. When we returned to Ghana, I went to the Sports Ministry but met the absence of the then Minister Mahama Ayariga. His Deputy, Vincent Oppong Asamoah asked me to return another time since his boss (the Minister) was unavailable."
Omar also told Joy Sports that he is only hanging on because of his passion for the sport and country.
"I don't have any other job but boxing."
"I want to achieve something for the national team and I am working hard but the promises are not being fulfilled. This is very disheartening. I am human being and I feel bad about this situation. I am pleading with the government to do something about it," Omar added.
Abdul Wahid Omar lost by a unanimous decision to Pakistani, Wasee Muhammad in the semi-finals of the Flyweight division to earn the Bronze medal at the Games. All three judges recorded 30-27, in favour of the Pakistani.
The young boxer is one of 12 boxers making up the current national amateur boxing team (Black Bombers), who are preparing for an Olympic qualifier in Cameroun next month. He was also named Amateur Boxer of the Year by the Sports Writers Association of Ghana (SWAG) following his performance at the Glasgow Commonwealth Games.
Meanwhile attempts to reach the Youth and Sports Ministry for a response proved unsuccessful. More to come....
Follow Nathaniel Attoh on twitter @niiattoh5 & instagram @citizenattoh.Our hashtag is #JoySports
Story by Ghana/Joy Sports/Nathaniel Attoh