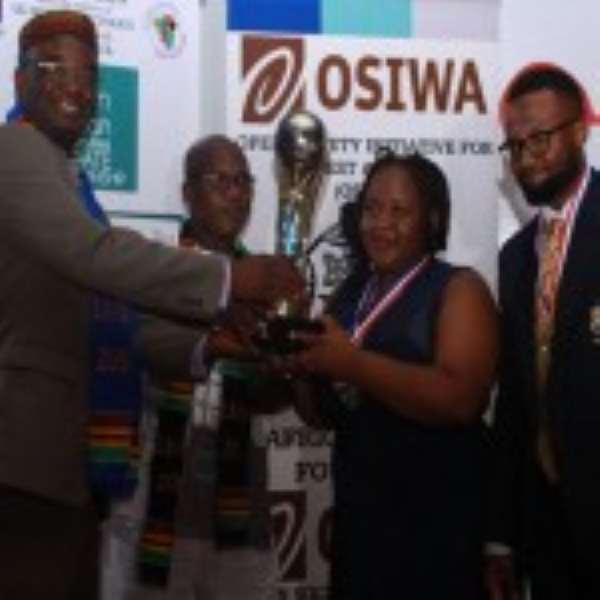 Dr Bitugu (L) presenting the ultimate prize to the South African duo
The Sports Director of University of Ghana Dr Bella Bello Bitugu has described the just-ended 8th Pan African Universities Debate Championship(PAUDC) as a huge success.
To him, Ghana's ability to go past the preliminary stage – the very first by a West African side – vis-à-vis stiff opposition from South African universities, was a plus.
He hailed all participants, especially the University of Ghana, Legon, and the Kwame Nkrumah University of Science and Technology (KNUST), for making it to the semis and finals respectively.
The Legon sports chief indicated that lessons from this year's event has placed his outfit in a better position to improve on the performance they recorded when UG hosted the championship.
He said after the championship, "It's been very competitive, the display of mental brilliance by the students indeed confirms the fact that we as sports people believe in the saying that healthy minds live in healthy bodies.
"It has always been dominated by South African countries, but we – I mean Ghana and for that matter West Africa – for the first time made it to the semis and finals. We will go back to the drawing board and hopefully lift the ultimate in Zimbabwe."
It was South Africa who emerged the overall winner after a keenly-contested final involving Ghana, South Africa, Nigeria and Zimbabwe.
Zimbabwe will be the host of next year's event.
Universities that excelled in categories like Best Country Speakers, Top Ten Speakers, Top Ten Adjudicators took home certificates and trophies.
LEGON 2015 was in partnership with African Heights Foundation, Open Society Initiative for West Africa (OSIWA), the Ministry of Education and other sponsors.
From The Sports Desk