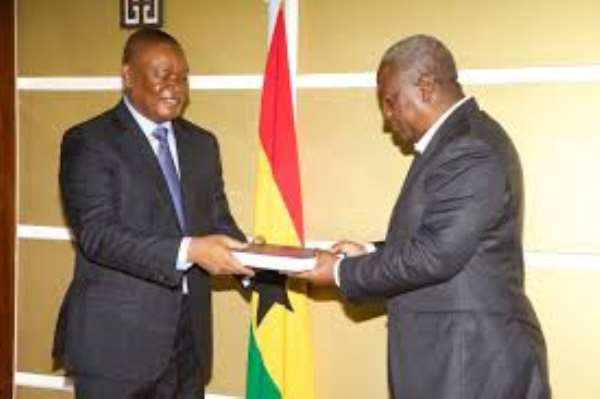 Dzamefe presents full report to President Mahama
Contrary to government's promise that the full report of Ghana's 2014 World Cup commission would be available by Monday has turned out to be a hoax as it is still not available, six days after it was supposed to have been published together with the white paper.
The release of the government white paper on the Dzamefe Commission on Thursday has been met with stern disapproval from analysts, experts and the public as it was not accompanied by the full report which violates the constitution.
The constitution also instructs that if for some reason the report of the Commission cannot be published, the President should have issued a statement to that effect, giving clear reasons.
According Article 23 of Ghana's Constitution, government's release of the White Paper was not done properly, rendering the action illegal. Article 280:3 says:
'The President shall, subject to clause four of this article cause to be published the report of a Commission of Inquiry together with the White Paper on it within six months after the date of the submission of the report by the commission'. 
The revelation of this prompted Mahama Ayariga, Science and Technology Minister, to inform NewsFile programme on Joy FM, that the report has been gazetted together with the White Paper.
Mr. Ayariga maintained that the Commission's report will be available for purchase at Assembly Press, the state publisher on Monday but it is still not available at the government press house by Tuesday night.
"Where is the full Dzamefe Commission Report?" this is a question thrown to government by Managing Editor of the Insight newspaper, Mr. Kwesi Pratt Jnr.
"It is not even in the interest of government that report is not out," he adds, stating that the lack of release of the paper makes it difficult commenting on the Commission's report. The White Paper is not enough to do any conclusive analysis of their work.
According to Mr. Pratt; it is not for nothing that the law states that a white paper should be released with a full report, bemoaning the fact that today a White Paper is out and the full report is still not released.
The senior journalist expressed worry that the current unavailability of the report opens the floodgates for people to interpret the content and findings of the Commission's work based on the White Paper.
Yaw Donkor, a law lecturer, said that the release of a White Paper on the Justice Dzamefe Commission report, prior to publishing the report itself is unconstitutional.
Attorney General Marietta Appiah-Oppong last week presented a White Paper on the Justice Senyo Dzamefe Commission report that sought to investigate Ghana's poor showing at the World Cup tournament in Brazil last year.