FEATURE: David Accam stands out as Chicago Fire reel off three straight wins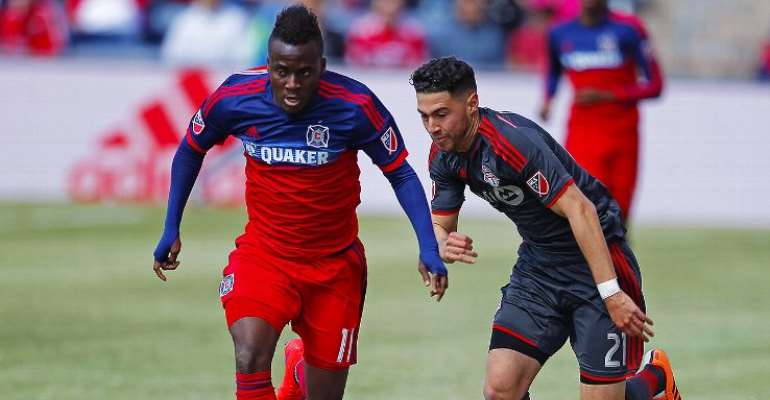 In the early weeks of the 2015 MLS regular season, little was going right for the Chicago Fire. Three consecutive losses had Frank Yallop's side firmly fixed to the bottom of the Eastern Conference table.
The defense looked a shambles, the team's attacking prowess sporadic at best. Yet the return to health of the Fire's silent assassin David Accam has since helped turn around Chicago's season.
Since entering the starting lineup two games ago, Accam has helped the Fire extend its current winning streak to three games, though at first glance his numbers don't hint at much of a contribution.
He has just one goal, and it came gift-wrapped last weekend when a bobble by New York City FC goalkeeper Ryan Meara allowed Accam to convert into an empty net. He has no assists and just two chances created in 225 minutes of play. Not awful, but hardly savior-like.
Yet the effect Accam has had on his teammates goes well beyond mere numbers. His blazing speed and deft close control have allowed him to stretch defenses beyond their breaking points.
It was his run behind New York's backline that resulted in a decisive red card for NYCFC's Andrew Jacobson. In the previous game against Toronto FC, Accam was only denied by some sharp saves from TFC goalkeeper Joe Bendik.
"Any defender will tell you that if [an opponent] is playing in front of the back four, you're quite happy," said Yallop. "When someone is trying to get in behind the defense quite a lot, it makes you uncomfortable. It's getting guys backing up a little bit when Accam gets the ball. That allows Harry Shipp and Shaun Maloney, and Matt Polster, the guys underneath, to perform. That's been good for them, and it adds a different dimension to our play that we didn't have. He adds so much of a scare tactic."
Not that you'll hear Accam gloating. As he discusses his initial forays into MLS, a journey that continues this Sunday when the Fire hits the road to face Sporting Kansas City (ESPN2/WatchESPN, 5 p.m), one has to strain to hear his words.
"I'm always quiet and shy, but on the pitch I'm a different person," he said via telephone. "You need to be arrogant and aggressive on the pitch. That's what I try to be when I'm playing."
Like most players who have reached the professional ranks, Accam has worked ferociously to get to where he is now. But the Ghanaian forward has also been the beneficiary of some good fortune. Until age 13, Accam's soccer "career" consisted of playing in the streets of Accra with his friends.
But a scout from the Right to Dream Academy, an international residency school based in Ghana that through sports offers scholarships to poor children from all over West Africa, offered Accam a way to advance his education and his football. It was move that had the blessing of Accam's mother Gifty, a nurse, and his father, Michael, an accountant.
"I wasn't bad in school either, and my parents wanted me to do both," he said. "The Right to Dream offered me a chance. It was just a different aspect of my life. Leaving my parents at the age of 13 and going to a full football academy, it was much, much different. But we had a lot of quality coaches and we were taken good care of."
It was at Right to Dream that Accam learned one of the basic truisms of climbing the soccer pyramid. "I thought talent was everything," he said. "But at [the academy] there are other good players like you. Talent wasn't enough. You have to work at it. I didn't really do that."
That was why at 18, he was sent to Hartpury College in England to study sports science as well as play football. Accam admits he looked at the offer as "a disappointment." It was difficult to see how he could still carve out a career in professional soccer since he was on a student visa, he would be unable to play professionally. Instead he would have to content himself with playing non-league football for the likes of Evesham United, who played in Division One South and West of the Southern League, in the eighth tier of English football.
Fortune smiled on Accam once again in 2011 when he entered a Nike sponsored competition called "The Chance," a kind of "American Idol" for soccer much like the Sueno MLS competition in North America. Accam first survived a national U.K. competition, followed by a world finals where he finished in the top eight. His prize: acceptance into the Nike Football Academy for the 2011-12 season.
Accam then moved into the professional ranks, though his aforementioned visa issues meant he started his career with Swedish club Ostersunds FK, then in the third tier of Swedish soccer.
Eight goals in 13 league games meant Accam was soon in demand by clubs in the Allsvenskan, the top division in Swedish soccer. Helsingborgs IF won the chase and upon arriving, Accam found U.S. international Alejandro Bedoya as one of his new club teammates.
"I really enjoyed just being in the midfield and hitting balls behind the defense to Accam," said Bedoya. "Even if I thought they were too long he would be able to catch up to them. The guy has serious pace. It's something that was evident right from the start, but he's also a hard worker too. He's a guy that is very flexible, a guy that is willing to learn and listen. That's something that goes under the radar a little bit, but you need that to succeed."
That adaptability saw Accam net 38 times in all competitions over parts of three seasons, though Helsingborg's then-manager Roar Hansen emphasized that the Ghanaian improved in other areas as well.
"Maybe as a young player, he would just take the ball and run," said Hansen, who now manages Swedish top flight side Atvidabergs FF. "It was a question of getting more involved with his teammates, to use them in combinations. And as a quick player, we have to work on defense too. Then he needed to score. He did all three. It was a good journey with him."
Accam's journey then seemed to take a bit of a detour. With his contract at Helsingborg beginning to wind down, there was no shortage of suitors. Teams from England, Russia and Belgium were reported to be interested, yet a pursuit that started last fall ended with Yallop flying out to Sweden to visit with Accam personally to sell him on the club and MLS. The face-to-face meeting made a deep impression.
"I never thought of coming to the U.S. at this point in my career," said Accam. "But it's about respect for your football and the right environment. The respect that Frank [Yallop] showed to me, and the owner showed, I thought this was a place where I could commit. I had a lot of offers from other countries but I think it's a good standard to play."
The move surprised Hansen and Bedoya as well as people back in Ghana, where he is now a full international. "I got a lot of advice from people and most people don't think MLS is good enough," he said. "But I can tell them how MLS is going to be big."
Similar expectations are now being placed on Accam. Yallop feels MLS hasn't seen the best of the Ghanaian and Accam has a similar mindset, especially as it relates to his finishing given that he's accumulated 11 shots so far.
That hasn't stopped Accam from taking stock of where's been, and where he can still go. "Every time I'm sitting alone, thoughts go through my mind, what a journey I've made," he said. "And I understand that I can go further."
The cheers of Fire fans will likely make plenty of people take notice.