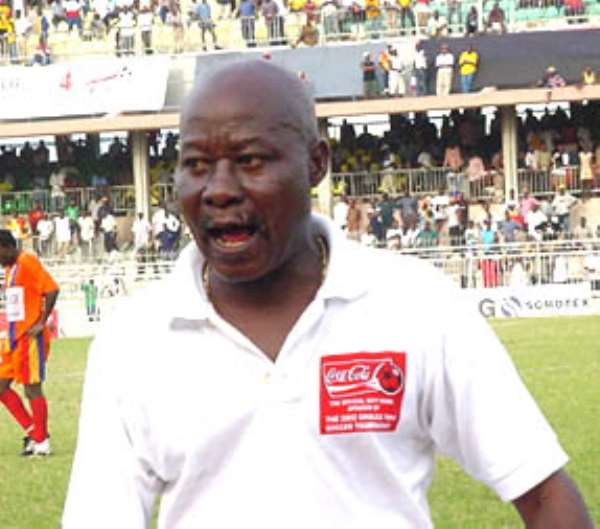 Cecil Jones Attuquayefio has carried out his threat to quit as Benin coach after failing to settle his differences with the country's football federation (Febefoot).
Attuquayefio told BBC Sport he will not be returning to Cotonou after his resignation came into effect on 31 July.
The Ghanaian's contract with Febefoot expires on 31 August.
I am not going back to Benin because the authorities did not show much interest in keeping me
Attuquayefio left Cotonou for Accra a week before Benin's 2006 World Cup and Cup of Nations qualifier against Egypt on 4 July.
Citing differences with Febefoot over his conditions of employment, the former Ghana coach threatened to quit.
"I have made up my mind now," Attuquayefio told BBC Sport.
"I am not going back to the Benin national team because the authorities did not show much interest in keeping me.
"I feel that I will be unable to work and produce the required results in the present circumstances."
Attuquayefio says he is now in talks with the Benin Embassy in Ghana to reclaim his salary, which he claims is still to be paid, for the months from April to June.
The Ghanaian guided Benin's Squirrels to their first Nations Cup in Tunisia earlier this year after taking over from Belgian coach Rene Telman in April 2003.
Yet Attuquayefio's relationship with Febefoot has deteriorated since Tunisia 2004.
Aside from complaining about his unpaid salary, the Ghanaian also accused Beninois football officials of failing to provide him with a house, an official car and telecommunication facilities - items that were spelt out in his contract.
Attuquayefio has been linked with a return to Hearts of Oak, whose German coach Ernst Middendorp quit for personal reasons last week.
Attuquayefio led the Accra side to the African Champions League title in 2000 but said he has yet to reach an agreement with the club.