South Africa Football Association marks 100 days of Senzo Meyiwa's death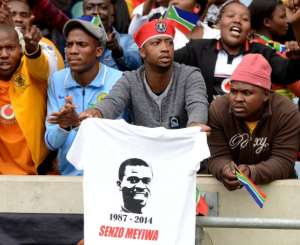 The death of the then-Bafana captain prompted the South African Football Association to launch the anti-gun campaign to curb these shootings.
SAFA issued a statement to mark 100 days and said this everyday occurrence was remarkable because Meyiwa was captain of the national soccer team, in the prime of a promising sporting career and a beloved public figure.
Since his passing on 26 October 2014, 1800 people have also lost their lives to gun violence (this figure is based on 18 gun deaths a day over 100 days), and countless others have suffered the trauma of losing their loved ones to the scourge of gun violence in our country.
"Just weeks into 2015, gun violence dominates South Africa's headlines. An eight-year-old girl has been killed in crossfire as a neighbour tried to shoot his wife," read the statement.
"A man killed his wife then himself in a police station while filling out a domestic violence incident form; and a 10-year-old found his dad's gun under the mattress and killed his nine-year-old friend.
"This has to stop. Like many others in South Africa who are victims of crime, the police have failed to make any significant progress in finding Meyiwa's killers.
"We know that one of the most important elements in healing and recovery is for the survivors, and those left behind, to see that justice is done – not revenge – but bringing his killers to book.
"On behalf of all the victims and survivors of gun violence we urge the police to put their substantial resources to effective use in pursuing the perpetrators of violent crime. We also call on government to engage with the relevant stakeholders in developing an effective, long-lasting, and multi-sectoral response to gun violence in our country.
"This could include the declaration of a national firearms amnesty whereby people can hand in illegal guns with no questions asked in order to reduce the number of guns in the wrong hands.
"Ramping up the government's policy on the public destruction of firearms that have been handed in so they don't end up in the wrong hands; strengthening our national gun law to ensure that licensed gun owners are fit and proper to own a gun in accordance with the requirements of the law; and declaring firearm free zones as zones of safety across our various diverse communities.
"We also call on all those who live in South Africa to actively engage with public and community safety initiatives: make your street, your block, and your neighbourhood a safe place for all who live there.
"Don't turn a blind eye; take action to rid our country of the scourge of gun violence by reporting illegal guns and illegal gun use. Together we can make South Africa a safe and secure country for us all."