Military Chief Fetes Tennis, Squash Players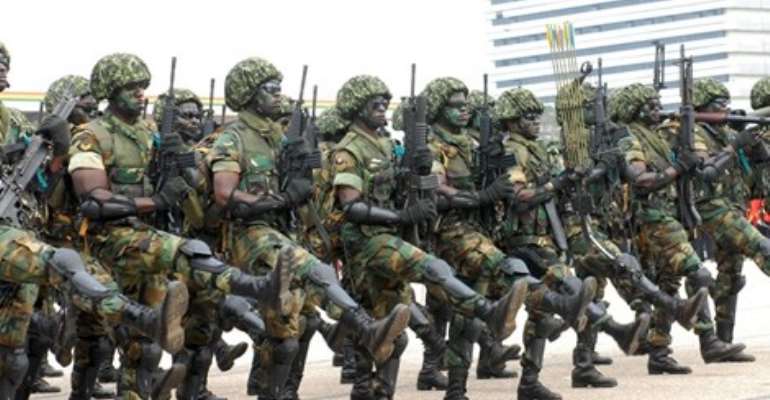 Brig Gen JA Boampong (second right) about to cut a cake presented to him by a tennis player
THE SECOND edition of the 'GOC Barbecue' was held at the Officers Mess in Kumasi on Sunday evening, attracting a huge patronage.
Brig. Gen. J.A. Boampong, the General Officer Commanding (GOC) the Central Command, sponsored the merry-making event.
He organized the event to fete members of the 4 Garrison Officers Mess Tennis and Squash players, to kick-start the New Year.
The event saw its attendants, including military men and family members of the squash and tennis players, dining together in a friendly atmosphere.
Brig Gen Boampong said the 'GOC Barbecue' was geared towards deepening the peace and unity that exists between the military and the public.
He stated emphatically that the days when the military and the public were seen as enemies were over, applauding the positive trend.
The Military Chief stressed on the need for the military and the public to work together to combat crime.
He said the security agencies, and for that matter the military, needed to share information which could lead to the arrest of criminals before the miscreants strike.
Brig Gen Boampong, who is a tennis player, explained that the event was to also deepen the bond of friendship among the tennis and squash players.
Samuel Ampadu-Kyei aka 'Kyikyiss', president of Mess Tennis, on behalf of the two clubs, thanked Brig Gen Boampong for organizing a great show.
FROM I.F. Joe Awuah Jnr., Kumasi