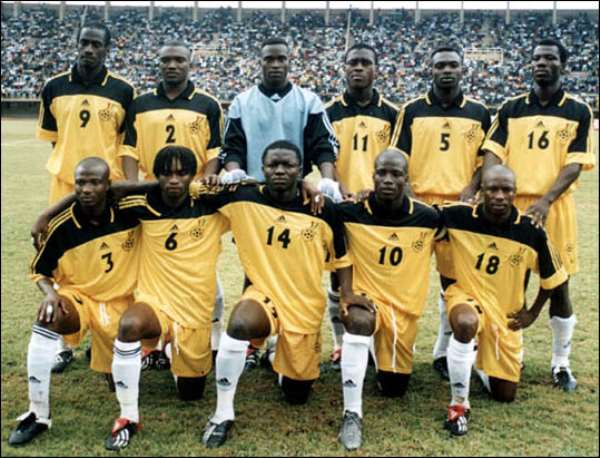 Two new foreign-based professionals, Bismark Ekye and Moses Sakyi, made their debut for the Black Stars last Monday as the national team failed to account for the Togolese national team, The Hawks, drawing goalless in a friendly match at the Kumasi Sports Stadium.
The well-built Bulgaria-based attacker, Sakyi, showed promise with some penetrating moves but Fiorentina striker Ekye who was substituted after the first session did not impress. It was a good test for the Stars, and Coach Barreto told journalists after the match that his team would not disappoint the nation on Sunday.
Barreto said the trial match has enabled him to assess some of the players in camp and believed a winsome side would be picked for the battle against South Africa.
The defence featuring the likes of Dan Quaye, John Mensah, and Dan Coleman was impregnable giving protection to Sammy Adjei and Louis Quainoo who manned the post in each half.
The Togolese who featured Komla Amewou of Kpando Heart of Lions, were ruthless on the slippery Charles Taylor.
Taylor who was introduced into the game in the second half was superb, taking on the Hawks' defence with sheer skills, perhaps signalling that he could be in the starting line-up on Sunday.
Skipper Stephen Appiah was brilliant in midfield but the coach, determined to test his players, pulled him out for Ablade Morgan on the restart. However, the Hearts of Oak striker could hardly cope with the strong play of the Togolese defence.
Baffour Gyan also impressed on the left side of attack. In the 70th minute, he took on the Togolese defence on the left flank and entered the box only to be denied by the ever-alert keeper Saliu.
Abubakari Yahuza set the stadium alight with a cracker of a shot in the 62nd minute from 30 yards, which the keeper picked with difficulty.Ten minutes from the end, Sakyi, using his strength to advantage went through the Togo defence but keeper Saliu once again came up to deny him in the box.
Togo's Nimbombe Dara was shown the red card in the 65th minute for a second bookable offence, but Ghana could not take advantage of their numerical advantage.
The Black Stars play Kumasi King Faisal in the final trial match on Thursday