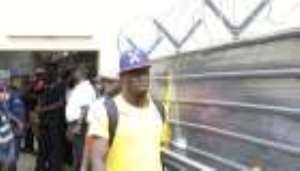 Middlesborough's Ghana winger Albert Adomah might have played just a few minutes at the World Cup but he sure is living up the experience.
In his first interview back at the Riverside,the speedy attacker appeared a little too blown away by the tournament.
'As a person that is the first time I have been involved in something massive,' he told Boro's website. 'Even some of [the] greats haven't played at a World Cup. Gareth Bale is worth £80m and he hasn't played there.'
Adomah added: 'For me to experience that was immense. It was held in Brazil, so what do you expect but happy, dancing, cheerful people? It's the home of Samba.'
Adomah will hope to replicate his form of last season for Borough in the championship if they are to maintain a challenge for a push to the Premiership after his 12 goal haul from last season.