Kotoko and Hearts - Now or Never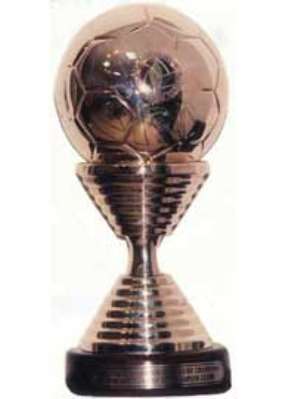 The moment for Hearts of Oak and Asante Kotoko to defend their huge reputation in Africa soccer is here. This is a moment of fortune telling, a moment which beholds fans to rally behind the clubs for expected success.
Hearts of Oak have a big task , playing against Etoile Du Sahel who would be desperate to cancel the one-nill defeat in Accra early in the game. It is a crucial battle for the Phobians considering the recent upward trend of Tunisian soccer. Ernst Middendorp should therefore rise to the occation to overcome the diverse technical play by the Tunisians with a "master plan" to book Hearts into the "money zone" of the competition.
The north Afircans are noted for their fast play and that is the more reason why Amankwaah Mireku, Dan Quaye, Kwabena Boafo and co should closely hold Etoile in chack while Osei Kufuor, Benard Don Bortey and Ablade Morgan give meaning to every chance that comes their way to ensure goals for the Hearts.
If the Phobians are to repeat the feet of the year 2000, beating Esperance in Tunis, then the masters of continental soccer would bring a big glory to Ghana. Phobian victory, our great expectation, would come true if lack of concentration does not take better part of the players. I believe Phobia would do it.
Although Joseph Hendricks, Dan Yeboah and Kwaku Essien would be missing the Kumasi cracker, curtessy the Ivorian referee`s bizare officiating , this is where the motto "Wo kum apem a apem beba" becomes more meaningful. The Porcupine Warious have that historical mark of secumbing the might of north African soccer. WAC of Morocco were therefore lucky to escape massacre in Kumasi in 2002.
Any slip on the part of Kotoko would wreck their current continental ambitions . It is therefore a big challenge to the Porcupine Warious who have been in relegation from this top competition for years . USM of Algeria would be in with all hopes of causing upset in Kumasi but trust the Porcupine Warious to record a big win on Sunday. The defensive network which would be built arround Issah Ahmed is expected to be on guard with Charles Taylor, Michael Osei , Frank Osei and co firing from all angles.
When George Arthur`s goals gave WAC the exit in 1987, the least did we expect that same side would take the African Club Winners Cup at the expense of Kotoko in Kumasi years later, but it did happen. Once bitten, twice shy. That is the more reason why Asante Kotoko should not sit and be overtaken by events but put in everything to tame the Algerians and beat them by a "qualifying" goals to nill, to send signal to the rest of the Magreb including WAC of Morocco that the potency of the Porcupine is back and is back for any match. Your destiny is in your hands Kotoko. Make Ghana proud Kotoko.
We wish Hearts and Kotoko all the best in addition to King Faisal and Liberty who would also be in tricky continental battle this weekend.