Ghana FA president Nyantakyi rubbishes Kwarasey's World Cup selection claims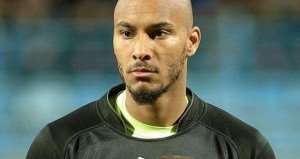 Ghana FA has rubbished claims by goalkeeper Adam Kwarasey that he was axed from the Black Stars post at the World Cup for non-footballing reasons at the last minute.
GFA president Kwesi Nyantakyi hit back at the Norway-based goalkeeper claiming he is peddling falsehood after the Black Stars disastrous campaign in Brazil.
The Stromgodset goalkeeper was Ghana's first choice in their opening game at the World Cup but was axed for the next two games and replaced with Fatau Dauda but Kwarasey implied he was left out for other reasons apart from performance.
"We had a match meeting four or five hours before the game. At that meeting I was in the team. Then it was a little bit back and forward. And suddenly I was out," he told Norwegian news outlet Verdens Gang last week
"I asked why. The coach didn't looked me in the eyes. He just looked down and said sorry. Then I understood that it probably wasn't his choice."
But Nyantakyi has contradicted Kwarasey's claims insisting that
"We left (for the stadium) two hours before the game, throughout the training, he may have gotten the impression he was going to be in post but he was told that he was not going to be in post," Nyantakyi told a local radio station.
"So I saw him talking to the psychologist of the team and all that. But for me it is the coach that determines who plays or not, so if he is peddling all these stories then I'm sorry because they are factually incorrect."
Kwarasey blamed the country football authorities for the plenitude of confusion which caused their early elimination.
The players boycotted training in the build up to their final Group G match against Portugal because of unpaid appearance fees.
It took the intervention of Ghana president John Mahama before the players decided to board a flight to Brasilia, the match venue, from their camp base in Maceio.