Shut up: Scolari tells Van Gaal to put down the lid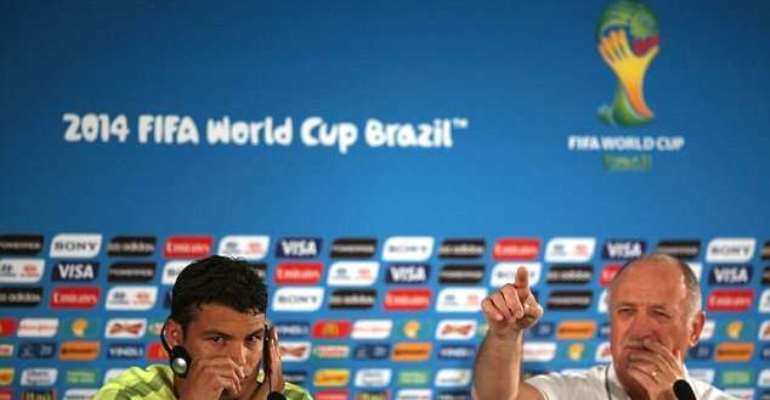 Brazil coach Luiz Felipe Scolari has hit back at suggestions the World Cup hosts could pick and choose their second round opponents, describing the comments as 'stupid and ill-intentioned'.
Scolari's blast appeared to be aimed at Holland boss Louis van Gaal, who on Sunday complained about the fact his side were playing before Brazil on Monday - despite having played their opening two games after the hosts.
The Dutch coach, who will soon take charge at Old Trafford, complained that Brazil will play their final Group A match against Cameroon in Brasilia four hours after Holland meet Chile in Sao Paulo.
Van Gaal accused FIFA of dirty 'tricks' and a lack of 'fair play' by claiming that the World Cup fixtures give Brazil an advantage. The former Ajax and Barcelona boss is angry that Brazil have played their first two group matches before Holland but will now have the advantage of knowing the identity of their likely second round opponents by the time they take on Cameroon. 
But Scolari angrily hit back at suggestions his side would do anything other than try to beat Cameroon. 
'Some people expressed a view that we were going to choose who we were going to play. Those sorts of comments are either stupid or ill-intentioned, I repeat stupid or ill-intentioned,' said Scolari, raising his finger.
'We have to play to qualify, not pick and choose our opponents. It was FIFA who chose the kick-off time,' Scolari told a news conference.
When the matter was raised again by another reporter, Scolari said: 'You are putting emphasis on somebody who is talking nonsense.'
The Group A winners play the Group B runners-up on Saturday, while the second-placed team in Group A meet the Group B winners next Sunday