3 Coys Support Lift Weightlifting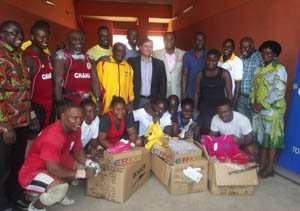 Sports Minister poses with the donors and the team after the presentation
Three companies – Erke Sports, Indomie Instant Noodles and Evolution Ghana – yesterday presented items and cash to the Ghana Weightlifting Federation at the Accra Stadium.
Erke Sports presented Erke sports branded kits, Indomie gave a cheque for GH¢15,000 cheque and GH¢5,000 cash, while Evolution supported the federation with GH¢2,000.
The donors, in separate words, stated that they were rallying behind the team as they prepare for the African championship slated for Casablanca, Morocco, from October 28 to November 5.
Youth and Sports Minister Elvis Afryie-Ankrah commended the donors highly for the gesture and pointed out, 'Since the days of Majeti Fetri we have realized that weightlifting has great potential if given the needed attention.'
He urged the team to go the extra mile in the forthcoming championship saying, 'Those you are going to compete with are not super beings, they are just like you. What will make you different from them will be your preparation.
'We are a unique country with a unique identity – only the best is good for us. The Black Stars have done it and I believe you can do it too,' the Minister said.
Hon Afriyie-Ankrah urged other federation heads to follow the shining example of president of the Ghana Weightlifting Federation Ben Nunoo Mensah.
Federation president Nonoo Mensah thanked the donors for rallying behind the team.
The weightlifting boss and the federation's publicist Charles Osei Asibey led the Sports Minister and officials of Indomie Noodles to inspect the construction of a weightlifting hall financed by Indomie Noodles at the Stadium.
By Kofi Owusu Aduonum