Three win tickets to watch finals of AFCON 2013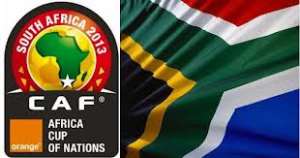 AFCON 13
Accra, Jan. 29, GNA - Two Ghanaians and an Indian emerged winners of the Ladbrokes/Kairo International Competition, an AFCON 2013 raffle designed to reward loyal customers of the company.
The three; David Sebastian, Alexander Gyebi Sarforo and an Indian national Jaideep Raman, were selected from a total of 3,000 participants that entered the competition.
For their prizes, they will be on an all expenses paid trip to South Africa to watch the finals of the 2013 Africa Cup of Nations on Sunday, February 10.
The package, includes return airfare, accommodation and feeding in a luxury hotel, VIP seats at Ladbrokes Hospitality suite and pre-match entertainment.
Mustafa Koc, Managing Director, of Kairo International said the three winners will be accompanied on the trip by England and Manchester United goalkeeper Gary Bailey.
He said, 'we proud as an African company to sponsor this competition and it gives winners the opportunity to enjoy one of the greatest events on the continent'.
Koc said Ladbrokes has broadened its frontiers to customers in East and West Africa as well as Indian Ocean Islands and congratulated the winners.
The winners are expected to leave on February 8 to South Africa to watch the finals of the competition on February 10.
Gyebi Sarforo expressed delight at winning one of the tickets, adding that he never expected to be among the three winners.
He expressed appreciation to the management of the company and pledged to be a good ambassador.
GNA