2002 Womens Nations Cup: Ghana 3 Mali 0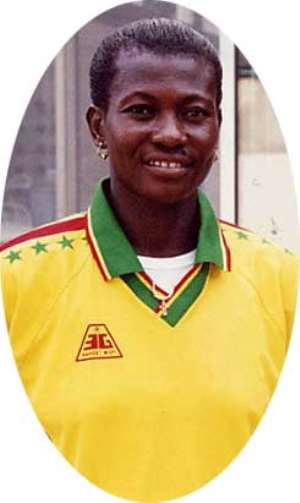 Black Queens beat Ethiopia 3-0, proceed to semi-finals
Ghana's Black Queens crushed their Ethiopian counterparts 3-0 on Friday in their last group match of the women African Cup tournament currently going on in Nigeria.
The score-line did not only reinforce Ghana's chances of proceeding to the semi finals of the competition but has also cleared doubts about teams capabilities as an emerging force in women soccer on the continent.
Skipper Alberta Sackey scored two classic goals while Nana Ama Gymfua made home the third at the Oghara Sports Stadium.
Results so far project Ghana as the only team that has won all its three group matches.
The Ethiopians started the game on a hot note apparently looking for an early goal to unsettle the Ghanaians but were rendered incapable by the defence team, bolstered by goalie Memuna Sulemana.
Sackey, playing a more impressive game, led the Queens attack, which maintained pressure on the opponents' vital area, leading to the opener in the 27th minute.
The second goal came barely six minutes after recess when Mimi Osei-Agyemang's replacement, Gyamgua wound a combination with Sackey upfront resulting into the second goal, which was also the fourth by the skipper.
Sackey made persistent attempts to make it a hat-trick but was walled around by the opponents with little chance for her to score.
It was in one such persistence that the skipper set the set up Gyamfua to hit the back of the net, to register the team's third goal for the day.
At the end of 90 minutes of packed action, Sackey was nominated as the most valuable player for in the encounter.
She told the GNA in a post match interview that that she felt honoured by the award and would go all out to put smiles on the faces of Ghanaian soccer fans.
She asked for prayers for the team.
Coach Aryee, on his part, praised the performance of the girls.
He restated that Friday's scoreline was enough indication of the team's determination to do its best.
At the Warri City stadium, the Super Falcons defeated Mali by 5-1, thereby joining the Queens to the next stage of the competition slated for Tuesday. Fixtures for the 3rd Women's African Cup of Nation in Nigeria, 7-21 December Group 1: 07/12 - Nigeria 3-0 Ethiopia 07/12 - Mali 0-2 Ghana 10/12 - Ethiopia 2-2 Mali 10/12 - Ghana 1-0 Nigeria 13/12 - Ethiopia 0-3 Ghana 13/12 - Nigeria 5-1 Mali Group 1