Images and colours of South Africa 2010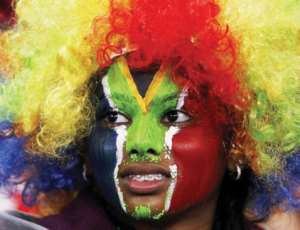 The English media will never let the world forget the visual, which the officiating referee missed, of Diego Maradona's infamous 'hand of God' goal which he scored against England.
They will, on the other hand, definitely want to, if they had the power, banish forever the scintillating visual of Maradona, in the same match, picking up the ball at the midfield line, dribbling and waltzing his way past six English players, then rounding up the goalkeeper and scoring one of the best goals ever - all at the 1986 Mexico World Cup, in which he captained Argentina to win the FIFA World Cup.
Coaches
The pudgy little maestro, revered as one of the world's best ever football players and now 49, was in South Africa 2010 as coach of the Argentine team. Most of the visual-media attention was, naturally, on Maradona in his new role as coach, and he was a delight to watch. As usual, he put on a class performance.
Sporting a well-trimmed salt and pepper beard, he was nattily dressed in suit and tie; bejewelled in diamond earrings, a gold chain with a cross, a designer watch on each wrist, and rosary beads to boot.
He was extremely expansive and animated on the touchline. Gesticulating, and his body language reminiscent of his moves as a great player, he shouted out instructions, went through the motions of willing the referee to issue yellow cards whenever his players were tackled, and at the end of each match, hugged and kissed his players!
By contrast, Nigeria's Swedish coach, Lagerback, was typically emotionless and cold, like most Swedes are, and was actually caught on camera with a weird smirk on his face as Keita was evicted from the Nigeria-Greece match. Marcelo Bielsa, Chile's Argentine coach, for a man well past his late sixties, was quite athletic, alternating between a squatting position and standing up to shout instructions.
Watching World Cup coaches at work showed that they definitely worked hard for their money, were prone to heart seizure, and aware that failure meant instant sacking without any sympathy!
As an aside, it is reported (NEXT Sport, June 13, 2010) that the annual salaries for coaches Maradona, Lagerback, and Bielsa are 800,000, 2 million and 575,000 Euros respectively! How the pressure of unexpected failure in the face of great expectations can crumble the personality and behaviour of coaches was well captured when Dunga became hyper-emotional, gesticulating, and in frustration, hitting out at the walls of his team's dug-out, as Brazil crashed out to the Netherlands.
For Maradona, it was anguish and tears as Germany tore Argentina apart. Dunga and Maradona had captained Brazil and Argentina to World Cup glory, but in SA2010 they glaringly exhibited their immaturity as 'great' coaches.
Celebrities
Competitions of the magnitude of the World Cup attract international VIPs and, SA2010 was no exception. President Zuma of South Africa played host to many African Heads of States, including Nigeria's President Jonathan. South Africa's elder statesman and sports talisman, Nelson Mandela, however, missed the opening ceremony.
Present were FIFA President Blatter, his African counterpart Hayatou, Jordan, Head of the Local Organising Committee, and many famous former players: Eusiebo, Platini, Zidane, and Abedi Pele Ayew (watching his two sons in the Ghana squad). President Clinton, mascot of the Unites States team, was shown sitting next to the Rolling Stones frontman, Mick Jagger; David Beckham looking incongruous in his waistcoat and tie sitting on the England bench, and Ballack and Beckenbauer (two former captains) savouring Germany's demolition of arch-rivals Argentina.
German Counsellor Merckel, wearing a red jacket and sitting next to Zuma, got up and clapped every time Germany scored against Argentina, and at the end, she hugged Zuma and kissed him on the cheeks. It was the turn of the Queen of Spain, sporting a long yellow scarf, to sit next to Zuma as Spain shocked Germany.
For the finals, Nelson Mandela and his wife, Graca Machel, were driven around Soccer City to deserved thunderous ovation. There were Heads of States as well as the King and Queen of the Netherlands, and Queen of Spain; Rafael Nadal, Zuma, and Blatter who later jointly presented the World Cup to Spain.
Coverage
Given South Africa's long-time excellence in film making, the television coverage of SA2010 was very creative and brilliant; in the live coverage of matches and the visual forays into the stands to catch the over three million spectators.
Particularly spectacular was the resort to aerial shots to give extended bird-eye views of matches in progress. Embarrassing revelations of the human error of referees and their assistants, as in the disallowed England goal against Germany (which had actually crossed the line); Argentina's offside goal against Mexico; and the controversial last minute goal-bound shot by Ghana, pushed back by Suarez (had the WHOLE ball crossed the line?) - make a strong case for the incorporation of technology in football, in line with electronic umpiring in tennis and cricket. The close-ups and slow-motions in replays were sweet and showed why football is called the beautiful game!
Colours
The colours of SA2010 were expected exaggerations of football-fan fashion. The usual faces of fans painted in national colours wearing 'national' painted wigs. The Netherlands fans, the Orange Army, dressed in orange-coloured suits and micro-skirts stood out amongst the subdued blues, greens, whites and lighter shades of yellows and reds that made up the attires of other countries' fans.
It was interesting to observe that while the England fans had 'temporary' red St. George's crosses painted on their faces, their star player, Rooney, had his indelibly tattooed on his left shoulder! The most adventurous fans were definitely the New Zealanders, dressed in furry Kiwi outfits.
SA2010 was hosted by the Rainbow nation and by quirk of coincidence, apart from being the most successful so far in terms of the design and colours of the stadia used, was also the World Cup of the most national Rainbow teams!
Prior to SA2010, a female member of the racist French National party sarcastically observed that the French team could not be identified as truly French; conveniently forgetting that the French team that won the 1998 World Cup had seven black players.
The Netherlands team at SA2010 had three, as against at least five black players in their usual squads, while South Africa surprisingly did not field their lone white player throughout the tournament. England, the U.S.A, and now Switzerland, are rainbow teams. The biggest surprise was Germany, the land of Hitler and 'the superior race', fielding a rainbow team from a squad in which 11 of their 23 players are not 'original' Germans.
One of the beauties of SA2010 was watching the Germany-Ghana match in which two brothers, Jerome and Prince Boateng, by the same Ghanaian father and different German mothers, played for Germany and Ghana respectively.
An octopus is credited for predicting that Spain would beat Netherlands in the final, but isn't there some karma in football as well? The great grand children of those who tried to destroy South Africa with racism and apartheid were not 'allowed' to reap the joy of winning their first World Cup in the same now beautiful Rainbow nation!
Credit: 234next.com