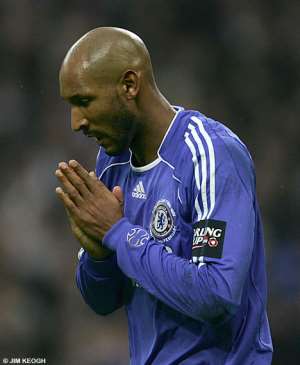 Praying for a move? Anelka World Cup 2010: Anelka reveals depth of French tensions
Nicolas Anelka has said the France squad was united in their decision not to train after he was sent home from the World Cup in disgrace.
The Chelsea striker, who described the atmosphere within the camp as like a "timebomb", was sent home for verbally abusing France coach Raymond Domenech.
The squad then refused to train as France crashed out at the group stage.
"If I hadn't been me that brought it to a head, someone else would. It was waiting to happen," Anelka said.
"Everyone, and I really mean everyone, was as one," he added of the camaraderie amongst the players in French newspaper France-Soir.
"In the case of mutiny, everything and its opposite was said. If there were some players who wanted to train, let them speak now. But I'm 100% sure that nobody will want to."
A government enquiry was launched into France's disastrous campaign and their reported in-fighting, while striker Thierry Henry held talks with President Nicolas Sarkozy after Les Bleus arrived home last month following a campaign that saw them lose two and draw the other of their three matches.
And Anelka's team-mate Jeremy Toulalan, who recently spoke out in admitting he played a direct role in the squad refusing to train in protest at the Chelsea man's dismissal, has admitted the players should be punished.
"I'm not proud of what I did but I accept responsibility," he told Journal du Dimanche.
"[But] there were no ringleaders and no slaves, no good guys and no bad guys. We were all involved and we are all responsible because nobody said a word [against the boycott]. Whoever says otherwise is a liar."
That stance prompted appreciation from Anelka, who said: "It takes a form of courage and a strong mentality from Jeremy to take it. I am proud to have played with him and the team of France. Jeremy is a players' player."
However, the former Arsenal and Real Madrid forward was not so complimentary about former France full-back Bixente Lizarazu.
Lizarazu, a World Cup winner in 1998, has criticised what he saw as Anelka's casual attitude in South Africa, accusing the forward of "strolling" and playing "in a selfish manner".
Anelka responded by sarcastically asking: "Lizarazu - who is he?
"When he speaks and we listen, we seem to hear a living legend. He's just a former player in lack of recognition, frustrated by the success of his mates Zinedine Zidane and Christophe Dugarry.
"Has he forgotten that he was at the 2002 World Cup? I was not included in the squad but I refrained from comment. He should stop talking about respect."