Manchester City in talks with Arsenal for Emmanuel Adebayor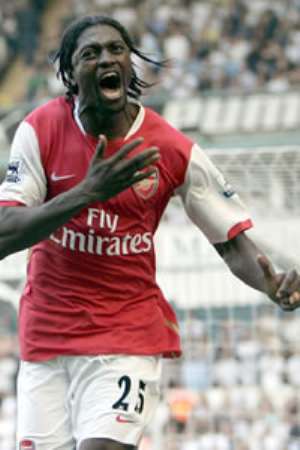 Emmanuel Adebayor

Arsenal and Manchester City are in talks over the transfer of Togo striker Emmanuel Adebayor.
Sky Sports News reports that the Arsenal hitman is the subject of transfer negotiations with the Eastlands side.
Adebayor has been linked with a move away from the Gunners with reported interest from Barcelona and AC Milan.
However, it appears Manchester City have stolen a march on their rivals by opening talks on a £20 million move.
City manager Mark Hughes is desperate to bring in quality names, and has been chasing Chelsea and England captain John Terry, as he attempts to kick-start his Eastlands revolution.
Sky Sports also report that the transfer of former Manchester United striker Carlos Tevez is nearing completion.
It is believed that Tevez has opted to move to the city rivals of his former club over a switch to Chelsea.