Kaka: Ronaldo and I Are worth Big Money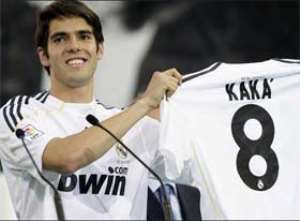 Kaka
believes that Real Madrid paid huge amounts to sign both he and Cristiano Ronaldo, because they were worth it and that he will work hard to live up to the price tag.
Los Merengues spent a reported €67million to prize the Brazilian away from AC Milan, having already agreed a deal worth around €94million to sign the Manchester United star.
While many were surprised about the amount spent by Madrid, views it as a wise investment, because he has earned that fee by being so good.
"The reason why Real Madrid have decided to pay so much money for us is because we are worth it, isn't it? Because we've shown it with our football over the last few years," he is quoted as saying by Marca.
"We are in a sport which pays these kinds of figures and within this sphere; it could be that we are worth this investment.
"In the case of Cristiano Ronaldo, who is the most expensive player, he has shown that he's number one and that deserves this money.
The price tag will not cause him any sleepless nights either, as he thinks, he will play well which will cause fans and pundits to forget about it.
"To tell the truth, I'm very happy to know Real Madrid paid all this money to sign me," he continued. "It's not a form of pressure for me, but a responsibility, but in no way is it going to create a negative effect for me, it will be just the opposite."