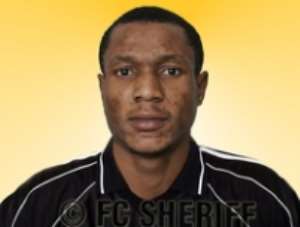 Yeboah was in Ghana for his mum's funeral Ghanaian striker Samuel Yeboah is expected to join his Israeli side Hapoel Tel Aviv on Tuesday after being wild rumours that he had gone AWOL for two weeks.
The 22-year-old striker is scheduled to return sometime today from his native Ghana, where he attended the funeral of his mother, who died of heart disease two months ago.
 
Hapoel Tel Aviv will likely face Maccabi Haifa tonight in the State Cup play-offs without its most significant acquisition of the season, Yeboah.
Yeboah asked to return to Israel today and gave his word he would be back, though Hapoel officials say they would be surprised to see him arrive in time to suit up for this important match.
There is no question about Yeboah's role in the team's fortunes this season.
Yeboah, who arrived this season after three years in Kfar Sava, improved from week to week until his mother's passing.
 
Since then, his goal production seriously declined. The young striker scored 12 goals in his first 15 appearances but none in the past five.
In a recent meeting with head coach Eli Guttman, the coach promised Yeboah he would provide him with all the conditions necessary to snap out of his slump.
 
Team members say the coach even appealed to the striker's heart by saying his dearly departed mother would have wanted him to do well, and that he should not let his grieving take control of him.
Guttman has to be careful with Yeboah, who is considered somewhat of an outsider.
His teammates who came with him to Hapoel say his situation is much better than it was in Kfar Sava, but he is still far from being "one of the guys."
Yeboah used to hang out a lot with Beitar Jerusalem's Derek Boateng, but since Boateng left Israel Yeboah spends most of his time at home.
"He's not the kind of player to enter the locker room and start shouting and encouraging everyone," says a team-mate.
 
"He's very quiet, even when his mother died most of us only knew of it through the internet. Yeboah finishes practice and rushes home. He's basically a nice guy, but I don't know him well personally."
While the loss of his mother is a special circumstance, Eli Ohana - the Israeli soccer legend who coached Yeboah between 2006 and 2008 - says he is not surprised by Yeboah's slump.
 
"Yeboah has a tendency to disappear after the winter break," Ohana said.
"It happened to me at Kfar Sava twice, but last season it was the main factor in our relegation. We had no playmaker other than Yeboah, and when he went, the team didn't score any goals. I see the same symptoms at Hapoel now, but Hapoel is a deep team and has someone else who can score when he is not on top of his game."
Still, Ohana believes Yeboah is the most talented striker in Israeli soccer.
 
He is confident Yeboah will score again, but Guttman can only hope it won't be in garbage time as he did at Kfar Sava.
 
Guttman is aware of the situation and has been working with Yeboah one-on-one.
Hapoel Tel Aviv officials have the impression Yeboah won't stick around another season.
For more Ghana football news visit www.ghanasoccernet.com