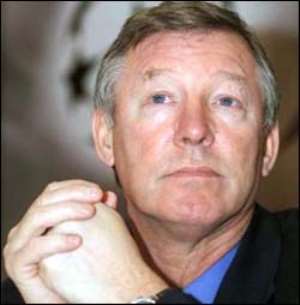 Sir Alex Ferguson Manager Sir Alex Ferguson was delighted with Manchester United's 0-0 draw with Inter Milan in the Champions League but regretted not grabbing an away goal.
"I hope not scoring a goal doesn't come back to bite us," said Ferguson.
"We deserved to win. We showed good composure and maturity. The second leg is at Old Trafford and with our record there we have a good chance to win."
United fielded an unfamiliar defence, with Jonny Evans partnering Rio Ferdinand and John O'Shea coming in at right back in the last-16 clash at the San Siro.
Inter were restricted to second-half efforts from Zlatan Ibrahimovic and Esteban Cambiasso and it was home goalkeeper Julio Cesar who was the busiest of the two men between the posts.
Inter coach Jose Mourinho was full of praise for his keeper Cesar and admitted he was satisfied with the result.
"When I won the Champions League (with Porto in 2004) we drew 0-0 at home in the semi-final and then won away to Deportivo La Coruna," stated the former Chelsea boss.
"It's a result that the team who plays at home in the second leg is happy with because they know if they win at home they are in the quarter-finals. "But for us it was an important result. We didn't want to go to United with a deficit because they had intensity and speed that we didn't have."