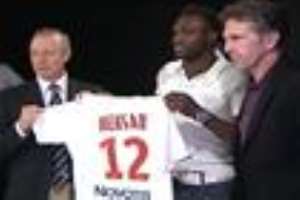 MENSAH IS HURT Ghana international John Mensah says the racial  abuse suffered during Sunday's Ligue 1 clash against Le Havre made him want to flee France and return to his homeland.
 
In an interview with L'Equipe, Mensah spoke publicly for the first time about the incident.
''I heard the comments during the first half,'' he stated.
''It came from [the stands] at my side. This is the first time it has happened. I don't know why they did that. It was a football match.
''He ruined my career. After hearing their voices I only wanted to do one thing, to go home to my own country, Ghana, and to forget all this.''
General manager of les Gones, Claude Puel, has expressed his regret at sending Mensah back out for the second half when he was in no mental state to play.
However, the player assumes some responsibility for the decision, too.
''I should not have [agreed to go back out to pay],'' he confessed.
''I did not have my head in the game because I was shocked.
''Afterwards I took a red card. I think it was harsh because I had not made many mistakes in the match and the referee must've heard what was happening in the stands.''
Indeed, such has been the impact of this incident, Mensah is not convinced that he wants to remain in Lyon, and he was coy on the subject when it was broached by  L'Equipe.
'' I don't want to answer the question,'' the experienced centre-back, who slotted in on the right of defence on Sunday, stated.
''Lyon was not the club responsible for what happened.''
Meanwhile, the chief culprit has been caught and has admitted to making monkey noises each time Mensah touched the ball.
The LFP (Ligue de Football Professionel) have confirmed that they will press charges.
For more Ghana football news visit www.ghanasoccernet.com