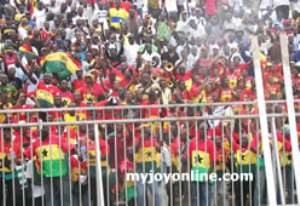 Ghana's management of crowds in stadiums failed the test yet again as the Hearts-Kotoko faced each other in a crucial League game.
The Baba Yara Stadium in Kumasi was packed well over its 40,000 capacity for the league game with many more taking over the walkways between the sections of seat in the stadium.
With searing temperatures of above 30 degrees Celsius, the police and army men deployed in the stadium to provide security became first aid men distributing bottled water to fans many of whom had entered the stadium at 09h00 on Sunday morning. At one point, the fire service drove their fire van into the stadium, spraying water on sections of the crowd who desperately needed some of it.
The attendance was a throw back to the epic showdown between the two sides especially in the 90s but the management of the crowd left more questions than answers.
The tickets were numbered and there were reports of fans scaling stadium walls in order to get access.
It will lead to renewed debate about whether Ghana learnt the lesson of the fine security arrangement that made the 2008 Nations Cup a ticketing success.