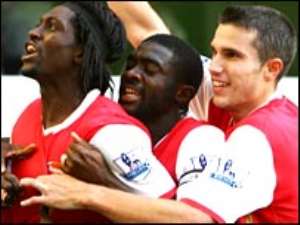 Adebayor has excelled this season Barcelona striker Samuel Eto'o believes Arsenal star Emmanuel Adebayor should win this year's Africa Player of the Year award.
The Cameroon international is vying with Adebayor for the award after both players as well as Didier Drogba were shortlisted for their performances for both club and country.
Togo international Adebayor helped Arsenal finish among the top four in the English Premier League and excelled in the Uefa Champions League.
The striker was also the key in Togo's qualification to the second phase of the World Cup qualifiers even though their march was affected by massive administrative and coaching problems.
The Confederation of African Football will confirm who has won the award in Benin next month but Eto?o believes there should only be one winner.
Eto'o told French television CFI: " I would have loved to win this award again but to be fair this year has been Adebayor's year," Eto'o said during live sports programme of French television station CFI.
"His performance for Arsenal and Togo throughout the year has been outstanding that's why I feel he should win ahead of Drogba and I.
"Frankly Drogba and I have been afflicted with injuries for some part of the season and it was Adebayor who was flying the African flag."
Adebayor found the net 30 times for Arsenal by the end of last season in May while he crucial four goals against Swaziland last month secured Togo's place in the second phase of the 2010 World Cup qualifiers.