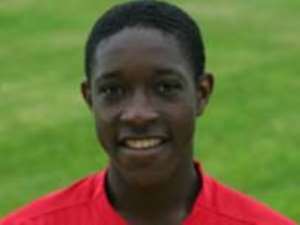 Welbeck could have played for Ghana Ghanasocernet can exclusively reveal that Manchester United striker Danny Welbeck was being considered for Ghana's squad for the African Cup of Nations in January.
Ghana football authorities have revealed that the 17-year-old, whose parents are Ghanaians, was contacted to be included in the Black Stars.
Ghana FA vice president Fred Pappoe says they were unable to reach an agreement over a nationality switch for the England youth international before the tournament.
"We are already in touch with Danny Welbeck's parents over him playing for Ghana and we started the move many many months ago," told Ghanasoccernet.com.
"We followed his exploits and wanted to invite him for January's African Cup of Nations but because he had played for the English youth team it was complicated.
"We were making progress but there was a hitch somewhere that's why we could not name him for the tournament."
Welback only made his competitive debut for United in September this year, against Middlesbrough in the League Cup.
A knee injury temporarily halted his progress, but he shone during United's 5-0, Premier League thrashing of Stoke last weekend, scoring his first goal in the process - a 30-yard screamer.
He has already gained U19 honours with England.
However, his display against Stoke alerted the attention of the world to his exploits but the Ghanaian authorities inisist they are not being opportunistic.
"He would have been a full Ghana international by now. We want to make it clear that it is not as if he scored last Saturday so we are jumping on the bandwagon," Pappoe said.
"We have been aware of Danny's talents for a long time.
"We will continue to pursue Danny and others we have spotted to give them the chance to represent the motherland. They are all sons of the land.
"In fact we have put together a team looking at all the Ghanaian prospects in England and elsewhere in Europe so when they are ready to play we will invite them with open arms."
Welbeck's pace and strength have led to Ferguson comparing him with former Arsenal and Nigeria forward Nwankwo Kanu.
For more Ghana football news visit www.ghanasoccernet.com