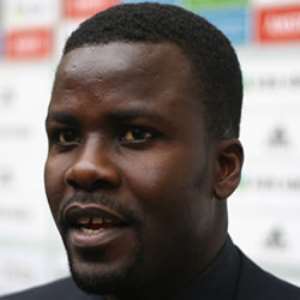 He has enjoyed an illustrious career filled with controversies. However Samuel Osei Kuffour says he has enjoyed his career and believes he is misunderstood sometimes.
The international defender, speaking on national television on Thursday singled out the present FA, Appiah and Real Madrid's Raul for praise when he touched on a wide range of issues bordering on his career, the national team and the future.
Champions League glory and Essien
Samuel Osei Kuffour became the second Ghanaian player after Abedi Ayew Pele to claim Champions League glory.
The Ghanaian defender made over 60 Champions League appearances, won it with Bayern Munich in the 2000-2001 season after missing out narrowly in a first attempt.
"It's a great competition to play in. All the best players line up for the big teams in such games. It was wonderful to have won it afterall."
"You Abedi Pele also missed it the first time but finally won it. I believe Michael Essien would win it eventually.
"He is such a great player and can go ahead to win more."
Respect for Raul
Having arrived in Europe at the age of 15, Osei Kuffour has come up against countless numbers of strikers but the defender claims Spain and Real Madrid's Raul stands out as the most difficult striker to mark.
"Raul ofcourse! He is a dangerous striker. He is not the physical type of player and also doesn't have the pace like others do have. But he blocks well, holds the ball and causes problems.
"He has composure and smells the goal. Raul also gets himself in goal scoring positions. He is the one that poses all the problems.
Commitment to the nation and pressure
A host of Ghanaian players have been criticised for not remaining committed to the national team. However, Kuffour says everyone dreams of serving the national team and it comes with pride.
"It's a great feeling playing for the national team. When the national anthem is played, you have to feel proud of the jersey. I always made sure my mum got a ticket to watch us (Black Stars) anytime we played in Kumasi. It was good to serve the nation.
Some players tend to buckle down when the expectation is high. Kuffour believes one must be confident at all times.
"Every player must play with confidence and show everyone that one can play. Just go out there and play. Don't let the pressure be against you."
The troubles of Tunisia
According to Kuffour, Ghana lacked the qualities of Appiah in the past when he recounted the events of 1994 at the Nations Cup where a strong Black Stars including Abedi Pele and Tony Yeboah failed to progress past the first quarter final.
Reports at the time indicated that there was disunity within the Black Stars.
But Kuffour plays down the issue and gives a different perspective on what was the problem.
"There was unity but everyone wanted to be a leader," Kuffour said.
"Abedi is a great footballer by all standards. He was my captain and I respect him. But he was not a great leader."
Another hotspot, Mali
If Tunisia exposed some cracks within the senior team, then the tournament in Mali 2002 seemed to offer some glimmer of hope.
The team look promising but got a false start when regular captain, Charles Akonnor was omitted from the squad by Osam Duodo. The mantle fell to Osei Kuffour to lead the team.
The decision to drop Charles Akonnor from Ghana's Nations Cup plans rather caused a huge problem for the management with Kuffour, then with Bayern Munich refusing to take up the job of skipper.
Accusations were directed all over with members of the FA especially Ben Koufie and Abedi Ayew Pele coming under attack.
Six years on, Osei Kuffour explains why he declined to lead his nation to the finals.
"I didn't accept it because I didn't want to betray anyone.
"Ben Koufie and Abedi Pele called me over the decision. But I asked if they had spoken to C.K. (Charles Akonnor).
"C.K. was a close friend. I wanted to be clear if the right thing had been done."
"The captain band is nothing. The band is different from being a captain. You have to have those qualities to do the job."