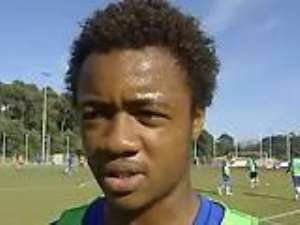 Abedi Pele's last son, Jordan Ayew, has been invited to the French national U-17 team, according to KickoffGhana.
The 16-year-old, who plays for French club Olympique Marseille, was handed the invitation thanks to excellent outing for his club in the junior leagues of the country.
Jordan, whose brother Andre, plays for the first team of the club and a Ghana international, is delighted that his brother's performance has been noticed by the French football authorities.
"I can confirm that Jordan has received an invitation to play for the French U-17 national team," Andre told KickOffGhana.com.
"I am not at all surprised because of the way he has played in the junior leagues over the past years.
"He has been the key man for the Marseille U-17 team and I am proud of my brother's achievement."
Jordan's invitation to the French national team is likely to spark debate in Ghana because of the legendary status his father enjoys in the country.
The 16-year-old holds a French passport as he was born in the European country and will have to decide whether he wants to play for France or Ghana.
Andre, who found himself in a similar position two years ago but he opted to play for Ghana, says he will not force Jordan into making a decision about his international career.
"Jordan has got into a position I was two years ago and I was never in doubt that I wanted to play for Ghana and I made the decision myself," Andre said.
"I will be happy if he plays for Ghana but I won't force him into making that decision because it is entirely up to him.
"When I was faced with the two possibilities two years ago none of my family members interfered and it will be the same for Jordan.
"I will be proud if he chooses to play for Ghana because it completes the family cycle as my elder brother Abdul Rahim has already played for Ghana."
If Jordan decides to play for Ghana, all the three sons of Abedi Pele would have played for the West African country.
The legend's first son Abdul Rahim, who plays for his father's team Nania FC, has played for Ghana at the U-17, U-20 and U-23 levels.
Meanwhile, Jordan has been promoted to Marseille's second team after spearheading the club to win the French national U-17 club tournament last month.
Jordan, who is a versatile player, scored three goals in their march to the title, before setting up Crus to score the only goal in their defeat 1-0 defeat of PSG to win the national title last month.
He is also expected to train with the Marseille first team twice in a week in preparation for a future with the top flight side.