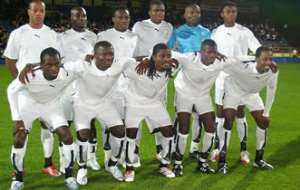 Ghana remains Africa's best football nation ahead of Cameroun and Cote d'Ivoire, according to the latest FIFA/Coca-Cola World Ranking released today.
Ghana maintained her 14th position in the global rankings, two spots ahead of Cameroun at 16th, with Cote d'Ivoire at 22nd.
Egypt at 30th, Nigeria 39th, Guinea 40th, Mali 44th, Morocco 45th, and Senegal at 46th completes Africa's presence in the list of 50. A publication on FIFA's website indicates only around 20 games were taken into account.
Argentina keeps top spot on the whole, trailed by Brazil, Italy, Spain and Germany follow in that order. The Czech Republic, France, Greece, Portugal, and Netherlands occupy the first ten spots.