Queens To Avoid A Massacre •In A Play-Off with Brazil In Beijing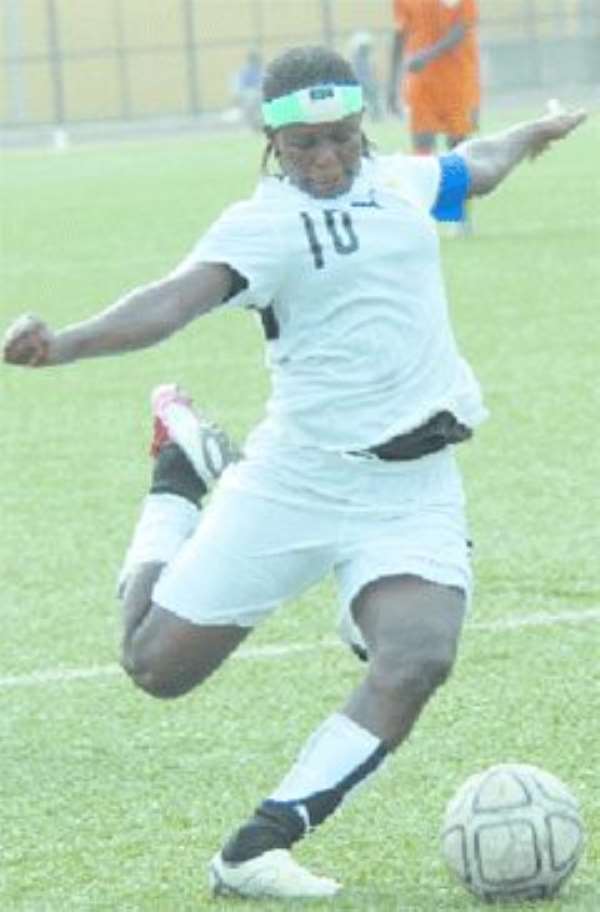 Ghana's Black Queens take on Brazil in Beijing tomorrow in football's version of David and Goliath in a playoff for a ticket to the summer Olympic Games.
It is a match connoisseurs of the game tip the Brazilians to run over the Queens in view of their contrasting class and pedigree.

However, the Ghanaians believe they could ride on their underdog status and cause what could pass for the biggest upset in women's football by denying Brazil a place at the Beijing Games.

Like their male counterparts, the Brazilian team sports some of the game's biggest names like world best player Marta and offensive midfielder, Christiane both of whom on a good day can run riot and tear apart even the most compact defence.

Queens captain Adjoa Bayor, Ghana's answer to the supremely-gifted Marta, believes the pitch will decide tomorrow's outcome, as the game does not always conform to logical reasoning for which many have written off Ghana.
Bayor, a veteran of three Women's World Cup appearances, is hoping to lead the Queens to achieve a feat that eluded their male counterparts, Black Meteors who were denied a place by Nigeria.

Ghana's coach Mumuni Gamel is equally confident that his young ladies will hold their own against the World Cup runners-up who similarly underrated their COMNEBOL rivals Argentina and had a rude shock in their regional qualifiers, a loss that denied them automatic qualification and pitted them against Africa's second best team.

Tomorrow's playoff will be the first ever clash between the two teams, but Ghana's record against non-Africa teams outside has raised doubts about the Queens' ability to rise to the challenge, easily their toughest test yet since hitting the global stage at the 1999 Women's World Cup in USA.

Apart from a 1-0 victory over the Matildas of Australia at their second World Cup appearance in 1993, the Queens have never beaten a non-African team. And in their quest for a maiden Olympic appearance, the young Ghanaian team face a high hurdle that appears very high to scale over.

The Queens are a team undergoing a transition. Coach Gamel, who guided the Black Princesses to win bronze at the 2007 All Africa Games, took over from Isaac Paha and brought along some of his talented princesses who he made football queens.

Goalkeeper Memunatu Sulemana and Bayor, Anita Amankwah and Florench Okoe bring the needed international experience to the team, while Daina Ankomah, Sylla Owusu and Ama Saabi provide Coach Gamel with a lot of youthful options in their moment of truth.

Story by Maurice Quansah