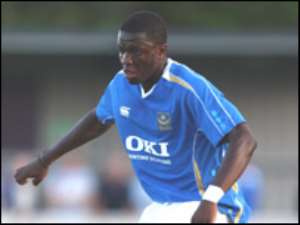 Portsmouth coach Harry Redknapp regards it as a calculated risk but a few other English Premier League bosses decided it was not worth it.
Now only time will tell whether the absence of four key players because of African Nations Cup duty next month will blow apart Portsmouth's UEFA Cup hopes and open the door for Martin O'Neill's Aston Villa and Sven-Goran Eriksson's Manchester City.
When Redknapp began rebuilding last summer he had no hesitation in not only keeping Kanu but recruiting the striker's fellow Nigerian John Utaka, as well as Senegal midfielder Papa Bouba Diop and Ghanaian midfielder Sulley Muntari.
At the same time O'Neill, Eriksson and even Sir Alex Ferguson steered clear of African imports.
"It was worth a gamble for me, if it puts us where we are at this stage of the season, because we're not far away from safety are we?" said Redknapp.
But with those four missing for up to a month, the Pompey manager accepts he will have to delve back into the transfer market in the new year to bolster his numbers.
Only a handful of top-flight English clubs will escape being affected by the biennial tournament, which kicks off in Ghana on January 20 and runs until February 10.
Manchester United do not have players involved, nor do City. Villa, Derby and Sunderland are also free from loss.
But Chelsea, Arsenal and Liverpool will be without the likes of Didier Drogba, Salomon Kalou, Michael Essien, Kolo Toure, Emmanuel Eboue and Momo Sissoko.
Birmingham and Reading could be missing as many as five from their respective squads, while Fulham will have to cope without striker Diomansy Kamara.
Other players likely to be involved include Yakubu and Joseph Yobo from Everton, and Newcastle trio Obafemi Martins, Shola Ameoba, and Abdoulaye Faye.
Of the 58 African players in the Premier League, no fewer than 44 are bound for the cup.
Kanu said: "Everyone wants to play in it and it's a great tournament for Africa." Utaka said: "Playing for my country and also playing in this competition is of great importance. To take part and to win it would be fantastic ? I believe Nigeria can do it."
And midfielder Muntari said: "It's a tournament that every African wants to play in and is proud of playing in." Not to be outdone by his Pompey colleagues, Diop added: "Yes, Senegal can win the competition." So which one of the four is likely to be the star of the show? Three Pompey players all go for the fourth in their pack ? Nigeria's Utaka.
Muntari said: "I can take care of Diop because I can always foul him. But Utaka is so quick no one will get near him. He'll purr like a Ferrari ? and he's as fast as one." Nigeria have won the cup only twice, in 1980 and 1994, whereas Ghana have lifted it four times and, surprisingly, defending champions Egypt are five-time winners since it was first staged in 1957. In 1968 it was switched to be held every two years.
But the debate over its standing continues. Some want it switched to the summer, others have called for a break in the Premier League while it takes place.
Some managers have even hinted that when it comes to much-needed surgery, certain players have put country before club.
And Redknapp added: "I'm struggling. We've got a lot of games in that month but there's nothing we can do.
"My four are all with teams who will go a long way, Ghana, Nigeria and Senegal. None of them is exactly weak."
PREMIER PLAYERS OUT IN AFRICA
CHELSEA: Didier Drogba, Salomon Kalou (Ivory Coast), Michael Essien (Ghana)
ARSENAL: Kolo Toure, Emmanuel Eboue (Ivory Coast)
LIVERPOOL: Momo Sissoko (Mali)
EVERTON: Joseph Yobo, Yakubu (Nigeria), Steven Pienaar (South Africa)
PORTSMOUTH: Kanu, John Utaka (Nigeria), Sulley Muntari (Ghana), Papa Bouba Diop (Senegal).
NEWCASTLE: Obafemi Martins (Nigeria), Habib Beye (Senegal), Shola Ameobi (Nigeria), Abdoulaye Faye (Senegal)
MIDDLESBROUGH: Ahmed Mido (Egypt), Mohamed Shawki (Egypt)
BOLTON: Abdoulaye Meite (Ivory Coast)
BIRMINGHAM: Medhi Nafti (Tunisia), Richard Kingson (Ghana), Olivier Kapo (Ivory Coast), Radhi Jaidi (Tunisia), Oliver Tebily (Ivory Coast)
FULHAM: Diomansy Kamara (Senegal)
READING: Ibrahima Sonko (Senegal), Andre Bikey (Cameroon), Sam Sodje (on loan at Charlton, Nigeria), Emerse Fae (Ivory Coast)

For more Ghana football news visit www.ghanasoccernet.com