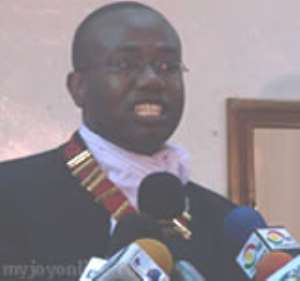 The Ghana Football Association (GFA) will soon establish a National School of Excellence as part of its efforts to develop the game in the country.
The Centre will accommodate teams from the U-12 to U-17 levels to groom players for the national juvenile teams.
Kwesi Nyantakyi, President of the GFA who told the GNA Sports in an interview said five players from all ten regions would be recruited to form the nucleus of the various national juvenile teams.
He said recruitment was ongoing in the various regions under the technical supervision of the GFA's Technical Instructors.
Mr Nyantakyi said education would play a vital role in the selection of players into the Centre.
The GFA President also emphasized the need for footballers to combine education and sports to achieve their desired goals in life.
"As part of our strategy, we are in the process of making basic education a major requirement for players taking part in our activities."
Though not mandatory, the GFA Boss insisted that footballers selected for the various juvenile teams would have at least basic education as an entry requirement.
Mr Nyantakyi said the FA would collaborate with the Ghana Education Service (GES) in that direction in order to aid selection of players within the age groups.
"Even on the field of play, players with some level of education play better than those with little or no educational background."
Beginning next year, Nestle Ghana Limited will sponsor the juvenile activities of the Football Association and the GFA President says it's a step in the right direction.