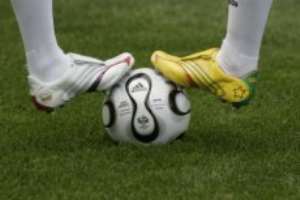 The value of Ghana's premier league continues to soar as title sponsors, OneTouch ups their ante for the 2007/2008.
From a package worth ¢1.5 billion in 2004, ¢2.5 billion in 2005 and last season's ¢3.5 billion for the league, the cellular service have pumped a ¢17 billion comprehensive deal for the new season which commences on the weekend of December 1 and 2.
The cellular service providers together with Ghana Football Association on Wednesday launched the OneTouch premier League as they presented the FA with the league trophy.
The league's mascot and logo was also unveiled.
This season's premiership has received huge capital injection with the Ghana Football Association having completed an exclusive broadcast with Afri-Sat, a satellite television channel televise the premiership for three years.
The three-year deal worth $2.750 million, gives the South African-based television channel exclusive rights to broadcast Ghana's elite league, the OneTouch premier league on their network.
Ghana's premier league kicks off on December 1 as Afri-Sat begins to roll out their broadcast of live and played back games of 480 matches within the season.