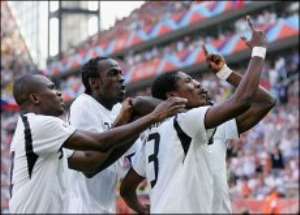 WHERE: Råsunda stadium, Stockholm, Sweden
WHEN: Tuesday 27th March 2007 (19:30 CET)
Background
Both sides last met on the 27th of June 2006 in the World Cup knockout round that saw the Black Stars pummelled 3-0 by Brazil. The first came via top scorer Ronaldo (5'), Adriano (45') and Zé Roberto (84') netting the other goals.
Brazil used the following line-up: Dida; Cafú, Lúcio, Juan and Roberto Carlos; Emerson (Gilberto Silva), Zé Roberto, Kaká (Ricardinho) and Ronaldinho Gaúcho; Adriano (Juninho) and Ronaldo, only Juan, Kaká and Ronaldinho Gaúcho expected to repeat in Sweden.
The game was also marked by an Asomoah Gyan red card in the 81st minute that left Ghana bowing out with ten men just four days before Brazil would follow suit after the Henry-led 1-0 defeat by Les Bleus.
Since then both have changed Coaches with Brazil plumping for 1994 World Cup winning Captain Dunga instead of Carlos Alberto Parreira (South Africa), Ghana replacing Ratomir Dujkovic with Claude le Roy (ex-Cameroon, Zaire)
This clash will, in fact, be the third time that the two nations have met head-to-head on a pitch, the first dating back to the 27th of March 1996 at the Benedito Teixeira stadium in rural São José do Rio Preto, the seleção stuffing the Black Stars 8-2.
Zagallo helmed the Canarinha with goals from Marques (3), Zé Maria, Sávio, André Luís, Rivaldo and Luizão. Yeboah and Duah scored the consolation strikes for Ghana. Few expect such a goalfest today, particularly with Ghana coming from a six-match unbeaten streak.
The Black Stars purple patch was extended as a late Muntari goal (86') salvaged a 1-1 draw against Austria in the Graz friendly a few days ago.
Team News
BRAZIL
After the good showing in the Chile friendly in Gothenburg, Dunga's 'Holy Trinity' of Ronaldinho, Kaká and Robinho should be fielded together again, although behind a different striker; most probably Vágner Love, although Ricardo Oliveira is in with a shout as well.
There are changes on the wings, São Paulo flanker Ilsinho and Santos right-back Kléber both slated for their first starts under Dunga, replacing Daniel Alves and Gilberto from the Chile first eleven as the Coach looks to test the best alternatives to replace Cafú and Roberto Carlos.
Hertha Berlin's Mineiro should replace Elano in the role of second holding midfielder, while Josué may just get a nod ahead of Gilberto Silva, repeating the São Paulo partnership with Mineiro that gave so much success and solidity to the Tricolor Paulista in Brazil and the Libertadores.
GHANA
Claude Leroy will have to dribble around a few injury-based absences as he tries to steer Ghana through the acid test of facing a team that has an aggregate 11-2 retrospective over the emerging African football power.
Turkey-based captain Stephen Appiah and Michael Essein of Chelsea are sidelined by injury, striker Junior Agogo also out and goalkeeper Sammy Adjei was injured in the Austria match although there's still been no official word on any other alterations yet.
Possible Starting Elevens (Unconfirmed)
BRASIL (4-4-2/4-2-3-1): Júlio César; Ilsinho, Lúcio, Juan and Kléber; Gilberto Silva, Mineiro, Kaká and Ronaldinho Gaúcho; Robinho and Vágner Love
Coach: Dunga
GHANA (4-4-2): Sammy Adjei Richard Kingson; John Painstil, Hans Sarpei, Francis Dickoh and John Mensah; Eric Addo, Laryea Kingson, Derek Boateng and Sulley Muntari; Asamoah Gyan, Haminu Draman
Coach: Claude Leroy
Players To Watch
BRAZIL Ronaldinho Gaúcho – The FC Barcelona star appears to be returning to his old self with his best performance in the seleção for almost two years – and his first goals since the Confederation Cup final against Argentina in Germany 2005.
The Chile game found Dinho more at ease than he has been for a long time, scoring two goals and assisting Juan to net the third with a swivelling piece of control that (unintentionally, but providentially) left the Bayer centre-back onside to bang in the third.
GHANA Sulley Muntari – The Udinese man will be a key player as his influence over on the left side of midfield may be able to stick a thorn in Brazil's side. He's scored in both the last games, his name going up inb lights in the 4-1 drubbing of Nigeria and the 1-1 draw with Austria.
Although 'Football Italia's description of the player as "showing himself to possess the touch of Kaká and the combativeness of Edgar Davids" may be a little generous, he's shown himself to be a powerhouse with a never-say-die attitude: just what Ghana need if they're to pull off what would be a historic win.
Prediction
myghanafootball.com invites readers to try their hand at predicting the final score and scorers as Brazil and Ghana warm Stockholm up with a tasty blend of football that could well be a minature midweek marvel...