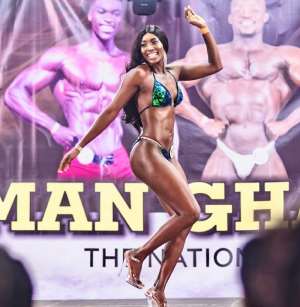 The new executives of the Ghana Bodybuilding and Fitness Association which took office last Friday have hit the ground running by way of restructuring and improving the Association and meeting international standards has appointed two of their Athletes into various positions.
Godwin Frimpong who is a Pro Card holder has been appointed by Executives as Chairperson whilst Vanessa Efia Kolekie occupies the secretariat position of the Athletes commission.
They will also serve as spokesperson for bodybuilding and fitness athletes in every matter concerning the course of bodybuilding and fitness competitions and recommend improvements in this area to the President and Executive Council.
They will also be expected to assist the Judges Committee and the Technical Committee in ensuring the smooth running of the World Bodybuilding and Fitness Championships or any International event.
They have the power to temporarily co-opt members to assist in carrying out the duties of the Committee.
The Athletes Commission appointees are expected to organize athletes for meetings, competitions, and other gatherings of athletes and executives; and to fulfil any other duty or duties that may be assigned by the President or the Executive Council.