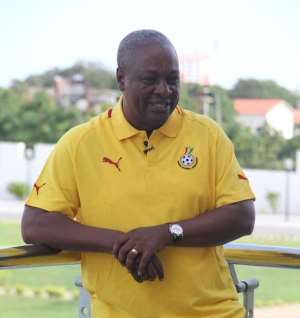 Former President, John Dramani Mahama is rooting for the Black Stars ahead of Ghana's friendly against Ghana later this evening.
In a post on his Facebook page, the 2020 presidential candidate of the NDC says although the Black Stars are not fancied for a win, he is confident the team will make Ghanaians proud at the end of the day.
"Soccer matches between Ghana and Brazil are always exciting to watch. In today's friendly at the senior level, the odds seem to favour the Brazilians, but I trust our gallant team, the Black Stars. They play best as underdogs, they will rise to the occasion and make us proud.
"Go Black Stars Go," the former president has shared on his social media this afternoon.
Ghana takes on Brazil later this evening at 6:30pm. The game which will be staged in France is part of preparations for the 2022 FIFA World Cup.