NBA round-up: Kendrick Nunn leads Miami Heat to victory as big three make their Brooklyn Nets bow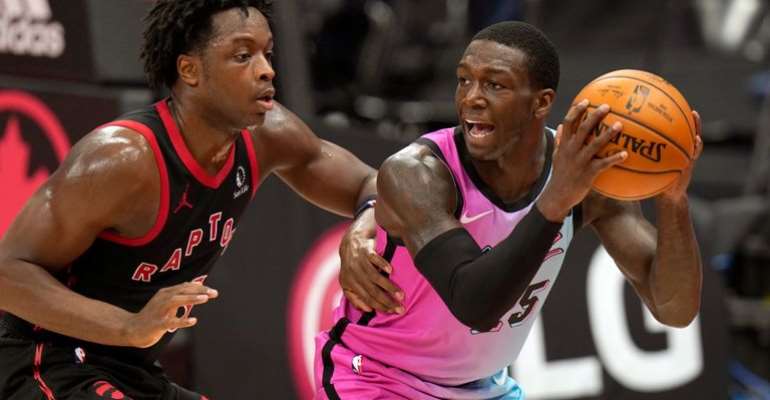 Kendrick Nunn scored a season-best 28 points off the bench and grabbed eight rebounds as the visiting Miami Heat got the better of the Toronto Raptors 111-102 at their temporary Amalie Arena home in Tampa.
It was the first time the Heat have won two in a row this season, and it ended the Raptors' winning streak at three games.
Goran Dragic added 17 points for the Heat while Kelly Olynyk bagged 15 points, eight rebounds and eight assists.
Bam Adebayo had 14 points, 13 rebounds and seven assists. Andre Iguodala sunk 13 points and Duncan Robinson added 14.
Fred VanVleet enjoyed 24 points and nine assists for the Raptors, OG Anunoby and Pascal Siakam each added 18 points, Terence Davis landed 16 points and Kyle Lowry scored eight points and 10 rebounds.
Wednesday night's NBA results
Brooklyn Nets 135-147 Cleveland Cavaliers (OT)
Washington Wizards P-P Charlotte Hornets
Dallas Mavericks 124-112 Indiana Pacers
Boston Celtics 109-117 Philadelphia 76ers
Detroit Pistons 115-123 Atlanta Hawks (OT)
Miami Heat 111-102 Toronto Raptors
Orlando Magic 97-96 Minnesota Timberwolves
Phoenix Suns 109-103 Houston Rockets
Memphis Grizzlies P-P Portland Trail Blazers
Sacramento Kings 96-115 LA Clippers
San Antonio Spurs 99-121 Golden State Warriors