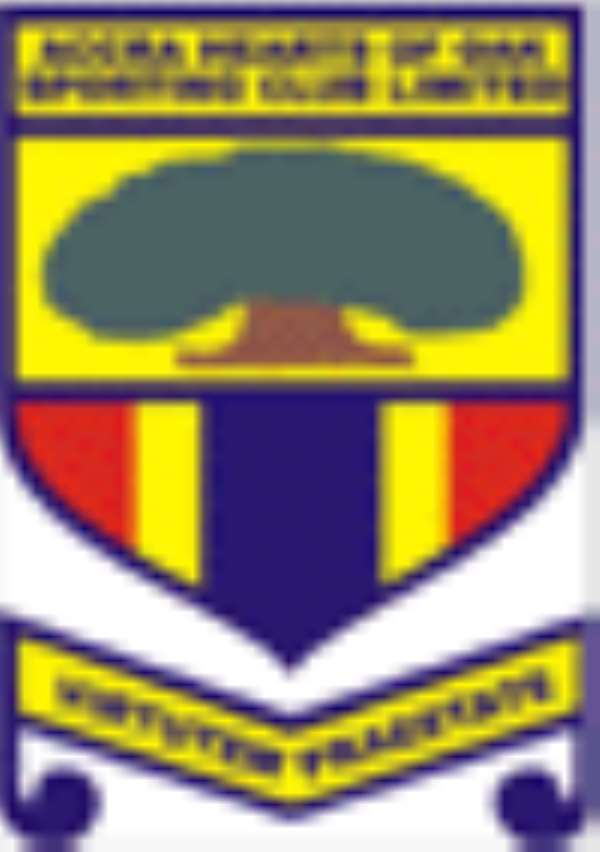 From the view of the faint hearted Accra Hearts of Oak's dream of playing in the finals of this year's CAF/MTN champions league appears far from realization.
But to the club's management, all is not lost. Hearts play as guests of Orlando Pirates on Saturday in the third match of the CAF/MTN champions league competition.
Mr. Ashford Tettey Oku, administrative manager of the club, yesterday told the Times Sports that management has informed the playing body of what they stand to gain if they are able to reverse their fortunes.
"We are not only losing money through our inability to score goals but losing the fame and exposure that comes with winning, he said.
According to the Hearts administrative boss, it was not surprising that the fans has thrown their hands in despondency obviously as a result of their poor outing in this year's competition.
The Phobians are deeply rooted at the bottom of Group 'B' without a single point or goal after two matches. They have conceded five goals in matches against Enyimba club of Nigeria and Asec Mimosas.
Nobody can begrudge those who think it is over for the club. It is normal to behave that way after stumbling in the first two matches of a competition with six matches in all.
It is in this light that the club has vowed to embark on a mission dubbed "Operation 12 points."
Guided by this mission, the Phobians have resolved to win the rest of their matches, including the ones to be played on enemy soil.
According to Mr. Oku, the resolve of the technical team and the playing body to conquer all on sight has strengthened their belief that the club will bounce back in grand style.
He said few doubts were raised about the determination and commitment of the players to their Phobian course but with the new resolution, "we can only hope for the best."
Heartily, coach Ato Hammond who has taken over from the fired Oti Akenteng will enjoy the services of all the top players of the club.
The only exception, Mr. Oku pointed out, would be Bernard Don Bortey who was reported ill and Stephen Ofei who has been suspended for attracting a second yellow card.
"We played well in all the matches but goal scoring proved our bane if that is rectified, we would run away with victory against the South Africans."
Mr. Oku expressed the hope that the attacking force of Hearts to be centred around Reuben Senyo, Eric Gawu and Joe Louis would find their rhythm to make their mission a reality.