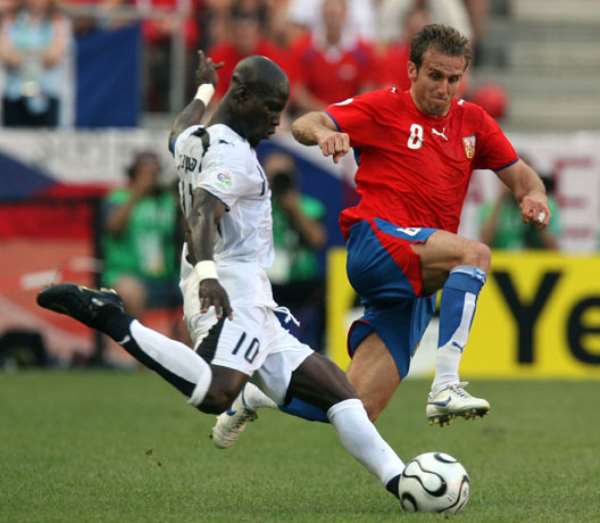 A FIFA draft technical report on the 2006 World Cup says the Black Stars showed an excellent team spirit during the competition.
According to the FA's official website, Ghana's quartet of Stephen Appiah, Michael Essien, Asamoah Gyan and John Mensah were voted as the Black Stars' most outstanding players at the World Cup.
Asamoah Gyan, who plies his trade in Italy for Serie B side, Modena FC was described with this qualities: quick, athletic striker, good in the air and dangerous in front of goal.
RC Rennes' John Mensah earned appreciable marks for his performance: defensive organizer, strong in the air and in the challenge, good vision.
Chelsea midfielder Michael Essien, arguably one of the best midfielders in the world proved his worth at the World Cup: versatile midfielder, enormous work rate, good distribution.
Ghana captain, Stephen Appiah showed his leadership abilities earning him massive commendation: attacking midfielder, leader of the team, excellent on the ball, reads the game well.
The report also highlighted Ghana's disciplinary record with the team which has an average age of 25 years picking up seventeen yellow cards with one red card during indirect play.
The report also gave the key points of the Ghana team as:
Comfortable in possession when under pressure.
Constructive build-up play.
Rapid transition from defence to attack.
Ball winning ability in one versus one situations.
Aggressive midfield pressing.
Ability to change pace suddenly.
Strong dribbling skills (Asamoah Gyan, Matthew Amoah).
Attackers with flexibility and movement.
Influential individual players (Michael Essien, Stephen Appiah).
Excellent team spirit.