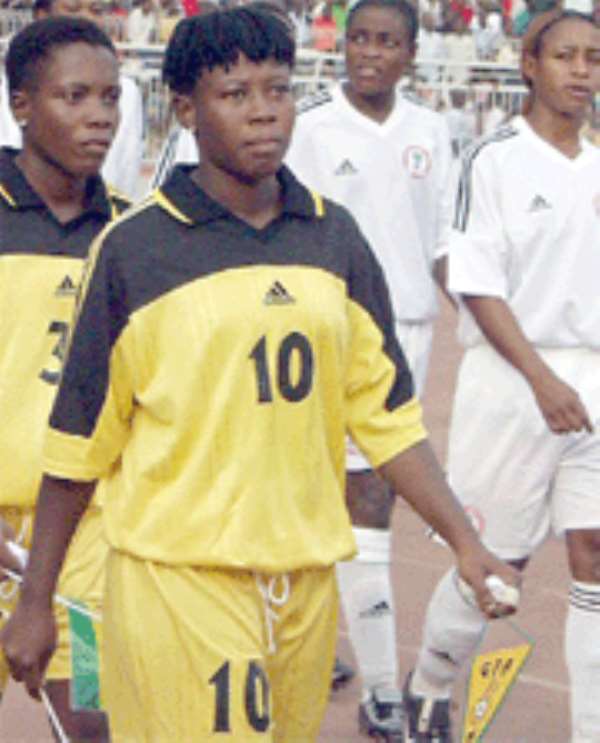 Bayor in No 10 jersey
The technical handlers of the Black Queens have appointed Adjoa Bayor as the new captain of the team.
Bayor, who has been with the team since 1997, succeeds former skipper Memunatu Sulemana and the country's number one goalkeeper, who is at the moment not part of the team preparing for this year's African Women's Championship qualifier against Congo Brazzaville.
According to the head coach, the technical team selected Bayor after carefully assessing her influence on the team, both on and off the pitch, as well as her contribution to the success of the team.
Head coach Isaac Paha said the team was compelled to appoint a new leader after Memunatu Sulemana could not be located.
"Since we began the recruitment and training exercise, Memunatu has not been part of any of the exercises and all efforts to trace her and assess her fitness has not been successful," he told the Graphic Sports.
Asked if Sulemana would be readmitted into the team, Coach Paha said that will only depend on her fitness, stressing that the doors of the team were not entirely closed.
"We are building a formidable, winsome team so if she shows that she is in a terrific shape, then why not, but her inclusion is not a foregone conclusion,," he said.
According to coach Paha, he was determined to instil discipline in the team and would, therefore, not pamper any player who thought she was so indispensible to the team.
In Sulemana's absence, as well as the unavailability of Fati Mohammed, Gladys Enti has also been appointed the top goalkeeper.
Enti has been part of the Queens team since 1996 but has never played any major role as she had always been overshadowed by Sulemana and Mohammed.
Meanwhile, the team currently based in Winneba preparing for the July qualifiers against Congo last Sunday beat Accra Ghatel Ladies 3-0 in a trial match at Winneba.
The first half of the match ended goalless with Ghatel squandering a penalty.
The Queens regrouped in the second half a more forceful side, pinning Ghatel to their own half most of the time.
Anita Amankwa scored twice while Sheila Okine converted a spotkick into the third goal.
Last Wednesday, the Queens beat Athleta Ladies of Ashaiman by a similar 3-0 margin.