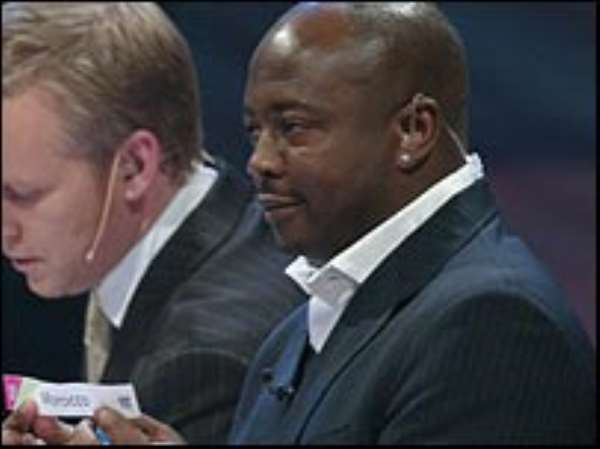 "This has never happened to our country"
Ghana football legend Abedi 'Pele' Ayew described the Black Stars 2-1 victory over USA as "history in the making".
The Black Stars, who now face Brazil, are the only African team to reach the second-round stage at the World Cup.
And Pele told BBC Sport: "It feels great because this has never happened to our country.
"I am so proud. I think the boys have played very well. We are the first African team here to win twice and score two goals in a game."
Pele was one of the first African players to make an impact in Europe and won the 1993 European Cup with Marseille.
At one point the 41-year-old was rumoured to be on the verge of a comeback to participate in the World Cup.
Even though he quickly ruled out a return, his influence remains.
Black Stars midfielder Derek Boateng was in the starting line-up against the USA and afterwards told BBC Sport: "We have had great players before.
"Players like Abedi Pele - and the old players are always supporting us, talking to us and giving us more confidence and you saw that against the USA.
"We are very happy to be in the second round and it makes us very proud. Everybody is happy, shouting and laughing."
Ghana, at their first World Cup, are the only African team to qualify from their group and Boateng, who plays for AIK Solna in Sweden, added: "It is like a dream come true, we are representing the whole of Africa.
"It is fantastic to play against Brazil. I think they will give us a lot of problems but we will go back to training and work for it."
Chelsea midfielder Michael Essien was booked in the opening minutes of the match and will now miss the tie against Brazil.
"I feel very sorry for Michael Essien but it is football and anything can happen," mused Boateng.
Essien himself was unhappy with the decision of referee Markus Merk to give him a yellow card so early in the game.
"I thought it is a little bit unfair," said Essien. "I did not think it was a foul."
Ghana Minister for Education, Science and Sports, Papa Owusu-Ankomah, chose to focus on the positives.
"It has been a dream that Ghana will participate in the World Cup and long overdue," Owusu-Ankomah told BBC Sport.
"We have always questioned ourselves - how come we are so strong when it comes to youth football but when it matters we do not seem to be making it.
"But we have got in here and we have distinguished ourselves - no doubt.
"It just goes to show that if we are committed and dedicated and organize ourselves well Africa can become a powerhouse of football in the future.
"The future is bright."