Coronvirus: Felix Annan Worried About Suspension Of Football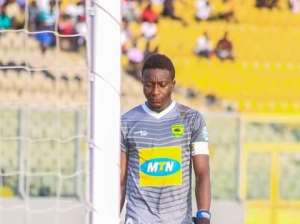 Asante Kotoko skipper, Felix Annan has admitted he is perturbed over the extension of the ban on contact sports due to COVID-19.
President Akuffo Addo on his 10th address of the nation lifted the ban on non-contact sports with the exception of sports that involves direct contact.
Football especially has now been postponed to July 31.
The Ghana Premier League has come to a halt since March 15 following the outbreak of the virus.
The decision by the president did not go down well with Felix Annan who believes the decision will affect the resumption of the league.
"We were all waiting for the president to lift the ban on social gatherings.
"But when the president suspended all contact sports until 31st July, it was worrying because when teams return after two the months, they must be given a month or more to prepare for the resumption of the league.
"When can we finish the current league in order to start the next.
"I don't know what authorities are doing about it now but I can see it's difficult to resume the league."
Felix Annan was on loan at West Africa Football Academy in the 2014/15 league season.