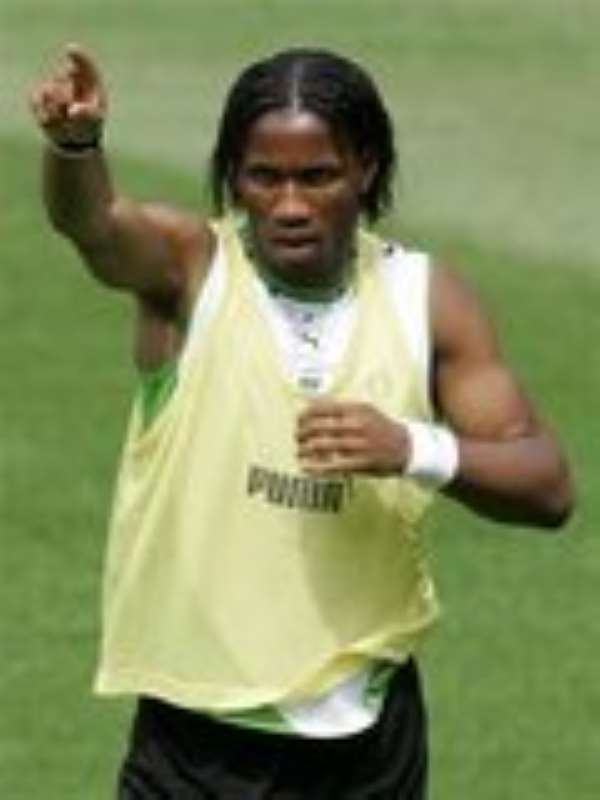 With the clock ticking down on Côte d'Ivoire's vital clash with Netherlands, FIFAworldcup.com caught up with the Elephants' captain Didier Drogba. Mixing honesty and optimism, he shared his thoughts on the loss to Argentina, the way the competition is shaping up and the tough challenge his team can expect from the Dutch.
Didier, you created a lot of chances against Argentina without really taking advantage. What do you think was lacking?
It's difficult to explain. It was our first ever World Cup game and that's got to be one reason, although we weren't nervous. We started the game very well and made chances, which proves we weren't inhibited. I think there are just days when the luck's against you. It's that simple, and against Argentina that's always going to cost you.
What was the mood in the team after the loss?
It was hard to swallow the defeat because we're highly competitive, but we had to get over it with the Holland game fast approaching. We switched all our attention to that match.
What did Henri Michel say to you after the game?
The coach didn't speak to us immediately afterwards. We watched the tape and it made for interesting viewing. As we left the pitch, we felt like we'd been second-best in every department, but watching the playback we realised we'd held our own and put some good moves together. Basically, that gave us hope.
Have you been working on your finishing more than usual?
No, that's precisely what we shouldn't do, I think. We've put some good practice in on all our routines, but no more or less than usual. Now we have to hope the ball ends up in the net during the match like it does in training.
On a personal level, you scored Côte d'Ivoire's very first goal in the FIFA World Cup™. Did that go through your mind?
At the time, the goal meant nothing to me. It's what I call a 'meaningless' goal because it didn't change the outcome. Having said that, it was an historic goal for Ivorian football, and I'm delighted for that reason. It's important to leave your mark.
For your first outing in the competition, you really find yourselves in a difficult group. How do you feel about that?
I've got mixed feelings. On the one hand, I reckon it's a bit tough to end up in a group like this. Argentina, Netherlands and Serbia and Montenegro… those are top-drawer teams. On the other hand, I've been telling myself the reason we're here is to take on the big sides, but that said, I wouldn't have said no to meeting them a bit later!
Enlarge Photo
Photo Gallery
First the awesome Argentines, now the redoubtable Dutch. What do you make of your next opponents?
They're a team who've got everything. They defend while moving forward, they're strong in the challenge and they're young and ambitious. In short, they don't have too many weaknesses and we know it's going to be difficult. I don't have some miracle formula for beating them, but the important thing for us will be to play at our proper level and convert our chances.
One man you will be up against is Arjen Robben, your Chelsea team-mate…
Yes, it's a bit special to play against a club colleague. Once we're on the pitch, though, we'll put our friendship out of our minds. Of course we've talked about it, and we bumped into each other on our arrival here. We swapped shirts and wished each other good luck. He's a nice guy and very respectful. He told me the competition isn't over for us yet.
How do you approach your role as captain?
The captaincy doesn't really give me any more responsibility than usual. I'm still who I always have been. I've always loved to get involved with whatever team I'm in, I've always talked a lot on the pitch and I've always given advice. I didn't wait to be named captain to start doing all that. The armband is just a confirmation of my natural role.
The start of the competition has not gone well for African teams. How do you explain that?
You mustn't forget that of the five countries that qualified from Africa, four are making their debuts. This is the biggest event of all and the hardest tournament around, so it's normal that we need time to adapt. Look at Tunisia. They're the only side not to have lost and they've played in the World Cup before. I hope we've acclimatised ourselves now and that we'll all get better results in our second games. I think we will, too, because even if the results haven't been good, the performances have been fairly satisfying. Togo were leading for a while, Ghana gave the Italians a real test and we did the same against the Argentinians. But, at this level, playing well isn't enough. You need that little extra.
How did you judge the performances of your two adopted homelands, France and England?
France had a very difficult first match against the Swiss, but I don't think it's too worrying. Those two sides know each other too well after having played so many times recently, and that explains why it was such a tight game. The only way to score would have been from a set-piece or a huge mistake. As for the English, they've found it hard to score, especially against Trinidad and Tobago on Thursday. But, at the end of the day, and thanks to the energy they put in, they got the win. That's a sign. I can see them going very far in this competition.
Have any other teams impressed you so far?
I was really impressed by Spain. They held nothing back against Ukraine. And then there's Ecuador, who've already qualified for the Round of 16 after a great performance against Costa Rica.
How is the Ivorian squad enjoying this FIFA World Cup™?
The atmosphere is really excellent. We're delighted to be here; it's a unique experience. Arriving at the stadium, the songs… we're wrapped up in all that. It's an incredible feeling. Everything has been organised so the players can be totally focused on the football, and that's brilliant. It's a party.
With just a few hours to go before this crucial match, can you feel the pressure rising?
Yes, but we're full of hope. We all believe we can do it and we're united. Obviously, everything is riding on this game against the Dutch. We're well aware of that and we know how much is at stake. I can promise you'll see that on the pitch.