Don't Impose Players On CK Akonnor - Asamoah Gyan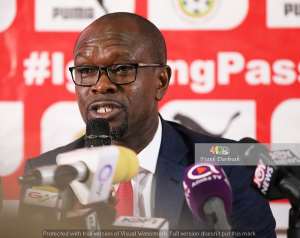 General captain of the Black Stars, Asamoah Gyan has implored Ghanaians not to impose players on Black Stars coach, CK Akonnor.
Akonnor, 45, has been awarded a two-year deal with following the exit of Kwesi Appiah on December 31 last year.
But Gyan, who is the country's all-time leading goal scorer beleives Akonnor must be given the free hands to work without interference.
"CK is a man of his word. I have had a meeting with him and people who are close to him can testify that no one can dictate to him," Gyan said in an interview with Adom TV.
"He will do what favours him as a coach in the sense that when things do not go on well, he takes the blame.
"We Ghanaians should allow the coach to do his work. He should take control of the national team so that when things go wrong, he can be blamed.
"If you [force] players on him and he doesn't perform, whom are you going to blame? But I think CK has played in Germany and with his mentality, no one can dictate to him.
"I'm reliably informed that he quit most of the clubs [he coached] because he didn't want anyone to dictate for him."
The Ghana job is Akonnor's first head coaching job with a national team.
Akonnor has also been tasked to secure Ghana a return to the World Cup after a disappointing 2018 qualification campaign.
Samuel Ekow Amoasi Appiah
Sports Journalist